OpenWorld 09 Oracle will out-invest Sun Microsystems on Sparc and Solaris and provide more open source contributions, Larry Ellison and Scott McNealy told OpenWorld Sunday night.
Oracle's chief executive and Sun's chairman, joined by executive vice president of systems John Fowler, also made the pitch that Oracle customers should run more of their applications and middleware on Sparc and Solaris.
Java father James Gosling, meanwhile, stepped in to reassure the Java community Oracle has a vested interest in maintaining and developing Java.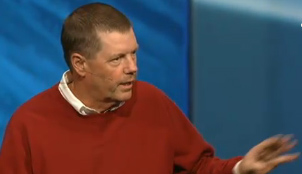 McNealy: sells Oracle users on Sparc and Solaris
Just one thing threw out their OpenWorld opening pitch - MySQL. Specifically, the European Union's investigation of Oracle's proposed purchase of Sun, given Oracle's ownership of nearly fifty per cent of the RDBMS market, and concerns among the open-source community over MySQL's future under the closed-source giant.
Ellison and McNealy pointed to Oracle's track record in buying and continuing open-source projects - notably the MySQL transaction engine InnoDB and the Sleepycat database. Also, McNealy claimed if Oracle messed with MySQL, the community would simply fork because the project is licensed under the GPL
According to both execs, though, the deal will close - and Oracle will get Sun. McNealy told OpenWorld: "I'm not quite sure why it's being held up but we are working with the authorities," he said.
Ellison followed up: "We are going to increase Sun's investment in MySQL if this merger goes through - and we think it will. It's a fascinating piece of technology, it's extremely popular, it's an open-source product and we are going to increase our rate of invest to that product."
Echoing McNealy, Ellison said: "When we bought InnoDB people speculated they would kill InnoBD. We bought InnoBD to make it better and make some money along the way. That's how we feel about MySQL."
Away from MySQL, McNealy promised Oracle will spend more money on development of Sparc and Solaris than Sun, and McNealy highlighted a recent Ellison quote in The Reg speaking of Oracle's belief in Java - or: "Java speaks for itself". A tip of the hat to McNealy, incidentally, for flagging up The Reg at this premier Oracle event, given its policy of not commenting in any of our articles about Oracle and its acquisition of Sun.
Gosling also said that Oracle is committed because of its own product mix. Only, he noted, Oracle has been caught out by the sheer scale of taking on Sun's developer engagement, noting there are 15 million downloads of the Java Runtime Environment on an average week.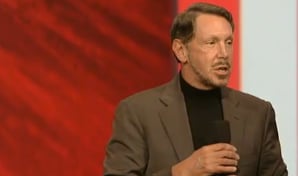 Ellison: like InnoDB, we will make some money from MySQL
"They've been a little unprepared for the volume of the Java world when we talk to them about developer programs," Gosling said. "Oracle has a developer program. We have a developer program. When you look at the size of ours it has a couple of extra digits."
Re-assurances aside, and as The Reg reported earlier, OpenWorld turned into an attempt to convince Oracle's database, middleware and business applications customers to put their software on Sparc and Solaris. McNealy said around a third of delegates are using Sun's software and hardware stack. "The other two thirds", McNealy said "we didn't lose your business, we just postponed your business."
McNealy was then joined by Fowler to outline features in Solaris for Oracle applications. This included built-in cryptography, advanced memory for large-scale Java applications, fault management, and dynamic configuration. Fowler claimed Sun is now number-one in performance benchmarks for transaction processing, business intelligence, analytics and application server.
Ellison, meanwhile, used the remainder of the event to beat up on IBM in high-performance data systems, in an expected pitch for Exadata V2. ®
Similar topics