Royal Marines' semi-hovership prototype launched
Commandos of the future to ride in aircushion catamaran
---
A prototype high-speed landing craft - using a novel British design halfway between a catamaran and a hovercraft - has been launched. The "PACSCAT" (Partial Air Cushion Supported CATamaran) design is intended for service with the Royal Marines.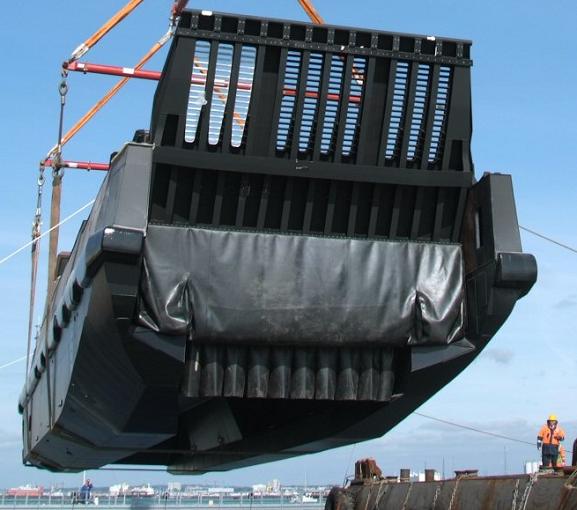 Per Mare Per Terram - riding on air.
PACSCAT has twin hulls like a catamaran, but also has curtains between them at bow and stern not unlike the skirts of a hovercraft. Air from fans is blown into the space thus contained, lifting the hulls higher in the water than they would otherwise be and so reducing drag. The PACSCAT should be faster than a normal monohull landing craft and able to beach itself and get off again more easily, yet able to carry more than a conventional air-cushion job.
The Royal Marines, who operate both normal and air-cushion landing craft, are interested in the PACSCAT concept as it could allow a task force to get ashore quickly while leaving its amphibious ships - potentially vulnerable and easily spotted - safely over the horizon out at sea. Though they have been fighting mainly in land-locked Afghanistan lately, the Royal Marine Commandos* did execute a major amphibious assault only six years ago (on Iraq's Al Faw peninsula) and they remain the UK's beach-landing specialists.
Tests for the Ministry of Defence (MoD) have already been carried out using models in tanks and a one-third-scale manned demonstrator. Now the project has built and launched a 175-tonne full scale demonstrator, 30m long and 7.7m in the beam. The all-aluminium waterjet-propelled semi-hover ship should be able to carry 55 tonnes of payload, generally made up of Viking light-armoured all terrain vehicles used by the Royal Marines. Over time it should be able to get a lot more cargo ashore than the marines' existing craft.
The PACSCAT demo project is being run for the MoD by QinetiQ, the company formed by selling off much of the MoD R&D apparatus. Other firms involved include Griffon Hoverwork and Aluminium Shipbuilding.
"It will be capable of performing a variety of roles, where high speed and high payload capacity are required and has exceptional beaching qualities because of its low and variable draught," explains QinetiQ floaty-boaty biz chief Iain Kennedy. "The industry partners are all working well together and the trials later this year will determine the performance of the PACSCAT hullform at full scale and the relevant operational capability." ®
Bootnote
*For American readers: 'Commando' in the British forces doesn't imply special-operations-forces status any more. It's an elite light-infantry qualification which all Royal Marines other than bandsmen must nowadays achieve, as well as personnel from other arms serving with 3 Commando brigade.