LG's LCD division has demo'd a novel e-book reader equipped with a solar panel.
There's no guarantee that it will ever come to market - the solar panel, that is; the e-book viewer appears to be an early Sony Reader - it does show how such devices may one day be freed from the grid. If you're reading in reasonably sunny climes, that is.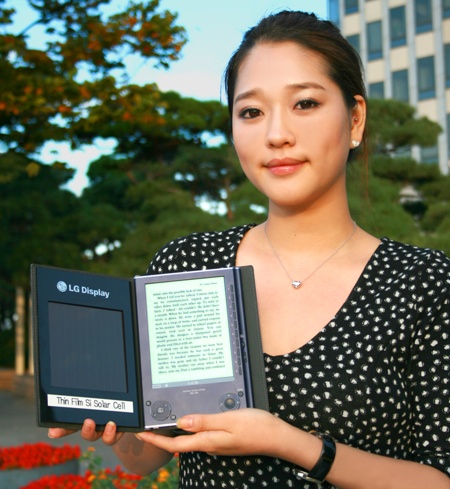 Under the Tuscan Sun: LG's prototype solar e-book viewer
The panel is 0.7mm thick, fits between the e-book reader's covers and adds only 20g to the whole package's weight.
E-book readers require relatively small amounts of power, peaking when the display is updated - the only time the e-ink screen requires energy. That's just as well, perhaps, because LG's panel has an energy conversion efficiency of under 12 per cent - a figure it hopes to achieve in panels produced next year.
Its goal is 14 per cent efficiency in 2012, at which point it will be able to commercialise its offering. ®