Review All-in-one PCs have been around for ages and it's not hard to understand their appeal. They feature the wire-free tidiness of a laptop, combined with the big screen of a desktop PC. The concept sustains many admirers, with Apple's iMac range doing very well indeed with just such a form factor.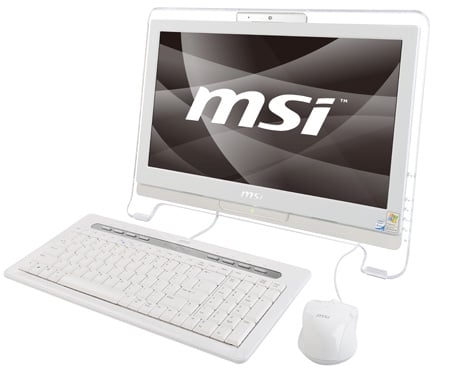 MSI's Wind Top AE1900: touchscreen computing on Windows XP
Getting in on the act is MSI's Wind Top AE1900. Appearing as a rather stylish widescreen monitor, the whole unit is set into a clear plastic surround, which forms a pair of feet at the front and at the top is a small silver 1.3Mp webcam.
A standard set of monitor control buttons fall easily beneath the fingers of your right hand, and it's not until you look at the left hand side or rear of the unit that it gives away its true computer credentials at all. Tucked away to the left is a pair of USB ports, a card reader and a vertically mounted DVD Super Multi format drive.
The back panel houses another pair of USB ports, analogue audio I/O jacks and a socket for the external power supply unit. In the middle is a single clear, plastic stand finished with attractive silver-coloured, although plastic, detail.
The AE1900 combines the low-cost, and rather low-spec, hardware of a netbook with an 18.5in 1366 x 768 pixel, 16:9 format touchscreen display. Inside, the system is powered by an Intel Atom 230, 1.6GHz processor with 512KB of L2 cache and a 533MHz frontside bus. This is the desktop version of the N270 commonly found in netboooks. It runs at the same clock speed and delivers approximately the same level of performance.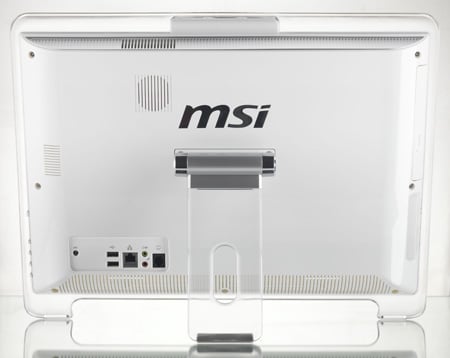 Casing design akin to Apple's old Cinema Display
The integrated Intel GMA950 GPU provides a less-than-speedy graphics subsystem, which is fine, as long as you're not hoping to play 3D games. Audio is provided by a pair of built-in stereo speakers that are entirely concealed from view. This unit features a modest 160GB hard drive, 1GB of DDR2 memory and rather more impressive Gigabit Ethernet and 802.11n Wi-Fi.