Review Before we dive into our review of the HIS Digital HD 5850 and Sapphire HD 5870 graphics cards, let's take a quick look at the technology behind the AMD's new family of graphics chips.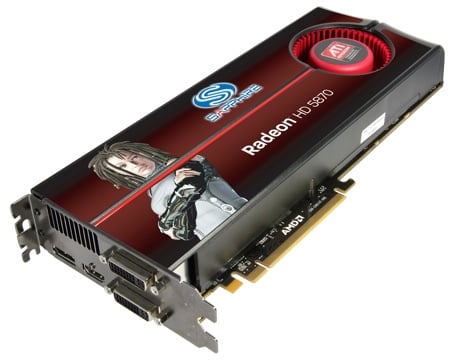 Sapphire's Radeon HD 5870: a 50 per cent gaming performance boost...
These DirectX 11 graphics cores use the same 40nm fabrication process that we saw in the ATI Radeon HD 4770 and this has allowed AMD to increase the transistor count by a huge margin. The 55nm HD 4870 packed 956m transistors into a die size of 263mm² while the new 40nm HD 5870 has 2.15bn transistors - 2.25 times more - in a die area of 334mm², 27 per cent bigger than the previous one.
Most of those extra transistors have been used to double the number of stream processors, or unified shaders, and the remainder support the DirectX 11 features that will be introduced with Windows 7.
The HD 4850 and the HD 4870 each have 800 shaders, but we step up to 1440 shaders for HD 5850 and an enormous shader count of 1600 for the HD 5870. Like the HD 4890, the 5870 has an 850MHz core speed and a 256-bit memory controller. The 1GB of GDDR 5 memory it connects to has a clock speed of 1200MHz (4800MHz effective).
The short version is that HD 5000 is HD 4000 with double the number of shaders, more than double the transistors and the addition of DirectX 11. That may sound like a recipe for a volcano of a graphics chip but the 40nm die shrink has done the trick. The fully loaded power draw of the HD 5870 card is 188W, a tad lower than the HD 4890's 190W.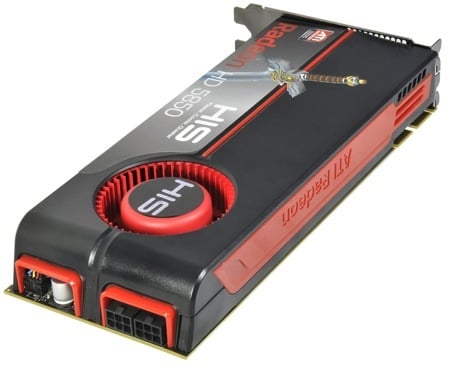 HIS' 5850: ...but with an incredibly low idle power consumption
But the amazing thing is that the idle power draw of the HD 5870 has been reduced to a mere 27W. AMD is emphasising that this is one third of the 90W idle power draw of an HD 4870, but we feel it's more appropriate to focus on the 60W draw of the HD 4890. No matter how you look at it, the 27W power draw of the HD 5850 and 5870 is incredibly low.
Similar topics