This article is more than 1 year old
Idle wild: how Intel's mobile Core i7 speeds up to slow down
Turbo Boost, Thread Parking and the drive for low-power performance
Naturally, each overclocked core pumps out more heat than it would do otherwise, but Intel insists that this won't adversely affect their longevity the way traditional overclocking sometimes can. This is because the Core i7 as a whole stays within its proscribed thermal limits.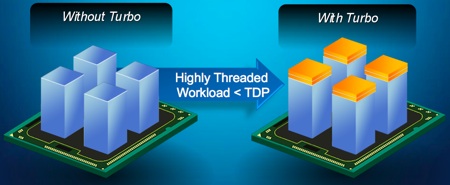 Turbo Boost: up the frequency, a little bit for four cores...
Core and die temperatures are sampled constantly so the degree of overclocking will depend on moment-by-moment heat output, which is not only dependent on the CPU's speed and voltage settings but also on the efficiency of the cooling system plugged on top of it.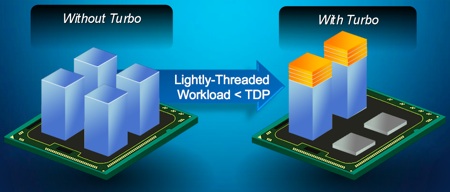 ...further for two cores...
You might think that upping one or more cores' clock frequency would be a bad idea when the goal is to reduce power consumption as much as possible, the better to extend the runtime of the host laptop's battery charge.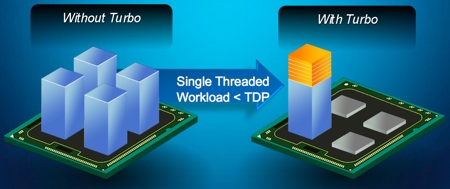 ...or even higher when only one core is scheduled
True, Turbo Boost does increase power draw, but Intel maintains that it's better to suffer a burst of power and allow the cores to complete their work more quickly than to take longer processing a task at a lower clock frequency.