This article is more than 1 year old
Idle wild: how Intel's mobile Core i7 speeds up to slow down
Turbo Boost, Thread Parking and the drive for low-power performance
It's clearly a balancing act, choosing which of those two strategies you pursue to minimise power draw, and if all four cores are going flat out - which assumes that each one's HyperThreading-enable virtual second core is in use too - the thermal limit will be hit and there'll be no jump beyond the baseline clock frequency.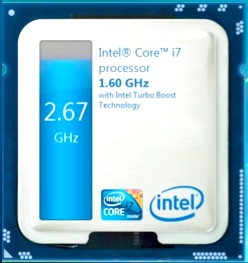 Intel's widget shows the level of overclocking
The use of Turbo Boost tech might seem to imply that single-threaded apps are better since they run at higher clock speeds, but four cores operating simultaneously at 2-2.26GHz should deliver better performance overall than a single core at 3.2GHz. Intel wants no let-up in software developers' efforts to exploit opportunities for parallelism within their code and create apps that spawn multiple threads.
Run the same 1080p HD video conversion on a 2.3GHz Core 2 Duo T2700 and on a laptop with a 1.3-2.8GHz i7-720QM, says Intel, and the latter will be done in 38 minutes. The first system will take more than two-and-a-quarter hours: 137 minutes, roughly 3.6 times as long.
That's not just Turbo Boost, HyperThreading and the extra two physical cores, mind - having access to faster, 1333MHz DDR 3 memory and 8MB of shared L3 cache plays its part too.
And for all the talk of "intelligent performance" from marketing types, Turbo Boost is really about power conservation. Increasing performance is HyperThreading's job, by maximising the scope for running tasks at the same time. Turbo Boost, where it can, helps those tasks complete more quickly. The sooner a task is done, the sooner a core can tell the OS it's finished and the operating system can, using established SpeedStep technology, tell it to go to sleep for a while.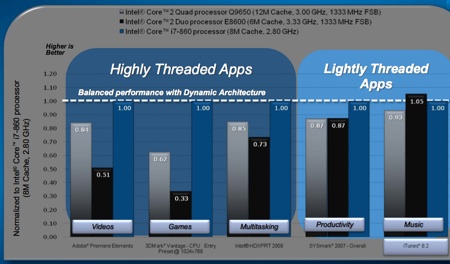 Performance boost: how faster Intel claims Nehalem is over previous chips
Click for a full-size chart
The whole approach is to get the CPU back to idle as soon as possible without penalising performance when it's needed. Which is why it'll pay off when the notebook is connected to its AC adaptor, ensuring the CPU cores aren't going flat out all the time and so conserving energy whether it comes from the battery or for the mains.