This article is more than 1 year old
Idle wild: how Intel's mobile Core i7 speeds up to slow down
Turbo Boost, Thread Parking and the drive for low-power performance
Powering down the processor more quickly should help keep the cooling fan running less frequently. No one likes a noisy notebook, and since Turbo Boost operates within the existing CPU thermal envelope, the fan shouldn't need to spin higher, either.
We won't be able to say how well it works until real-world tests are conducted - watch this space.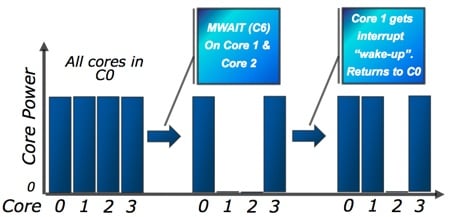 Getting cores into an idle state slashes power consumption
Turbo Boost operates independently of the operating system - unlike SpeedStep and HyperThreading, for example - so it'll benefit Windows, Linux and Mac OS X users equally.
Windows Vista currently is well able to make use of HyperThreading and SpeedStep, but Windows 7 adds some new tricks to make smarter use of the available processing resources, the better to minimise power drain when performance isn't paramount.
Using a technique called thread-parking, Windows 7's scheduler is, Microsoft claims, better able to allocate resources than Vista's, switching threads in flight from virtual to physical cores so those threads can complete more quickly. It's about ensuring the OS understands there's a difference between physical and virtual cores rather than simply seeing a Core i7 as an octo-core chip, as Vista essentially does.
When all the physical cores are busy, then 'parked' virtual cores are given tasks to run. Again, this is about using the fastest resources first in order to complete work more quickly and then power down cores to preserve the battery charge. It should also make the system more responsive.
Trying to hold processing resources in reserve this way means that they're ready to be called upon when a peak in demand occurs, ensuring that the user interface doesn't freeze when other tasks are grabbing lots of CPU cycles. Of course there are instances when the load patterns means this is going to happen anyway, but smarter scheduling and the extra headroom provided by TurboBoost should minimise the frequency of such moments.