This article is more than 1 year old
Idle wild: how Intel's mobile Core i7 speeds up to slow down
Turbo Boost, Thread Parking and the drive for low-power performance
Again, only real-world tests will show how valid the claims made by Intel and Microsoft are - and whether they make a difference when so much system power is drawn by, say, the display, a device that's consuming Watts whether the CPU's on a light load or a heavy one.
Snow Leopard's Grand Central Dispatch system, which allows software developers to stop worrying about threads at all and leave it all to the OS has the potential to allow Mac OS X greater control over thread scheduling, but it's not clear from Apple's GCD documentation whether its scheduler is as HT savvy as Windows 7's is.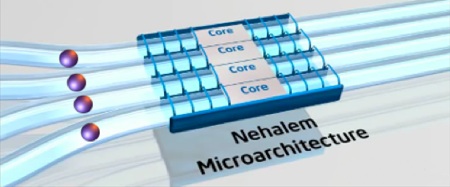 Only four threads to schedule? Thread Parking ensures they'll only be assigned to physical cores
The Nehalem-derived Xeon 5500 processors Apple builds into the Mac Pro and Xserve have HyperThreading, though the CPUs in none of its other machines yet do, so this feature shouldn't be alien to Apple.
Linux certainly does support HyperThreading and has for years. It has also supported thread parking for quite a while too, kernel scheduler hacker Ingo Molnar told Register Hardware.
Indeed, the next major kernel release, 2.6.32, due in December, will include "further tweaks" for SMT load-balancing, he said, allowing the scheduler to "adapt to the momentary performance profile of each socket, core (and thread) on the system - even if they are asymmetric".
In short, it'll not simply favour real cores over virtual ones but also faster-running physical cores over slower ones, monitoring the state of each and switching threads as each core's frequency changes. The feature will be built into 2.6.32 but disabled by default. ®