This article is more than 1 year old
Packard Bell EasyNote Butterfly
All-day battery and then some
The 13.3in LED screen has a resolution of 1366 x 768 so you can, in theory, watch HD movies. Things are slightly more complicated in practice, as you need to use the USB drive to watch regular DVDs with the bundled copy of CyberLink PowerDVD 8 – complete with nags to upgrade to the new version 9.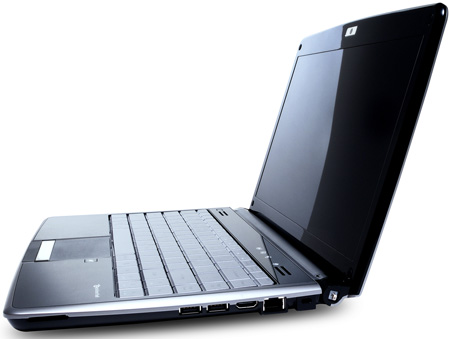 Weight loss: no built-in optical drive, but an external USB one is provided
If you want to watch HD movies, you'll need to use a player such as QuickTime and this is where things get messy; at the native movie resolution of 1280 x 720 the movie fits the screen however the control buttons vanish off the bottom and out of sight.
If you run QuickTime in full screen mode the buttons undock and can be used correctly but of course you're now watching at non-native resolution and as a result the picture loses clarity. Retaining the original size is possible with the Present Movie option in QuickTime Pro, if you're prepared to pay for it though. Still, there's a get out of jail card as Packard Bell has included an HDMI output so you can connect to an HDTV as a secondary screen for movie duties.
The LED screen looks rather good in general use – with a lovely depth of colour – no doubt assisted by the screen coating which is glossy, without being ludicrously shiny and reflective. During our testing we used the standard power scheme, which dims the screen to half brightness when running on battery, but it was too dark for comfort. We adjusted the power scheme to full brightness and re-ran the battery test. The battery life only dropped by 16 minutes to five hours 11 minutes, which is still very impressive.
When we restarted the laptop we found the power scheme reset itself to the original dim state of affairs, which is annoying and seemingly quite unnecessary. In many ways this sums up the Butterfly s, as the hardware is perfectly decent, but there are enough annoyances to temper our opinion.

An Intel Core2 Solo single core processor helps sustain the battery life
Let's take the hardware first which delivers the HD screen, 250GB hard drive, 4GB RAM, three USB ports (you'll need two of them to power the DVD writer), Gigabit LAN, 802.11b/g/n Wi-Fi, headset jacks, webcam with 1280 x 800 resolution, card reader, VGA and HDMI outputs, and that amazing battery life. Bluetooth is an option and we'd prefer a dual core processor, but that would eat some battery as well as increasing the cost.