This article is more than 1 year old
Packard Bell EasyNote Butterfly
All-day battery and then some
Now let's turn to the less inspiring stuff. For starters, there's the styling, which can best be described as bland. The keyboard is quite serviceable, despite having keys that are very flat. There is a decent amount of separation between each of the keys and the action feels solid and responsive, but the layout of the keys is a little vexing. Specifically, the Enter key is not located on the outside edge of the keys but is inboard of the Page Up and Page Down keys.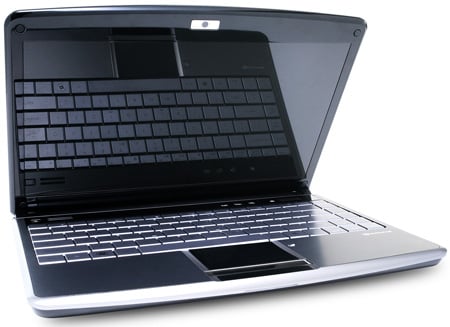 Keyboard layout could be better and the styling of the trackpad buttons is a tad confusing
The multi-gesture touchpad is somewhat on the small side and the zoom in and out function is a bit jerky. We reserve a particular hatred for the mouse buttons, which are located at either end of a tilting strip that carries a shiny Packard Bell logo. It is not immediately obvious that this is the mouse control even though it is located below the touchpad, and that smacks of poor design.
The Butterfly s runs Windows Vista Home Premium and although we like the inclusion of Adobe Photoshop Elements 6 and Microsoft Works 9, we are, no doubt, not alone in feeling that the trial versions of Office, Norton Internet Security 2009 and Premiere Elements 4 are a waste of hard drive space.
Verdict
Packard Bell has delivered a laptop under 2kg that packs some decent low power Intel hardware inside a fairly bland chassis. Indeed, the CPU performance compromises on the Butterfly s allow for the stunning battery life, but we would hope for something extra for our seven hundred quid. ®
More Notebook Reviews...

Asus
UX50V

Toshiba
Satellite A350-12J

Samsung R522

Dell Studio 15

Packard Bell EasyNote Butterfly
Lightweight both to carry and in the number crunching department. While the excellent battery life is attractive, the price is less appealing.