Review We liked the first version of Western Digital's WD TV box. It was released in December 2008, barely nine months ago, but WD has already rolled out its successor.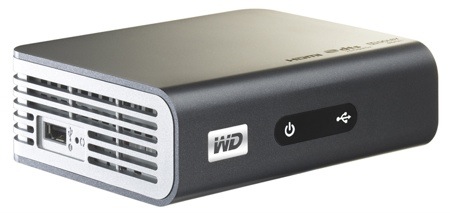 Western Digital's WD TV Live: now with networking on board...
There's no substantial change to the functionality: WD TV - now called the WD TV Live - is a compact media player that has no storage of its own. Instead, you use its two USB ports to connect external hard drives, cameras and the like, and the WD TV will cast their contents onto your telly.
As before, the box has an HDMI 1.3 port and a composite-video output, though this time the three RCA jacks - yellow, red and white - have been replaced by a 3.5mm headphone-style jack that's converted to RCA by the bundled cable. WD TV uses the same mechanism to provide component-video support, which is new to this edition.
The big change, however, is the addition of an Ethernet port and tweaks to the firmware to allow you to access folders shared on your network. WD really should have built Wi-Fi in too, but it would rather sell you an optional USB wireless adaptor. Maybe that makes sense to WD's North American design team, but few folk in the UK have Cat 5 cabling on tap. WLANs, on the other hand, proliferate, and WD really should have integrated it into the box.
For a moment, we thought it had. The WD TV's Sony XMB-inspired UI contains a "Wireless Favourites" panel with in its Settings area, allowing the box to remember five separate WLANs' SSIDs and passwords. But no, this is only used if you have said wireless adaptor.

...but not wireless
Remembering multiple WLANs makes sharing content with chums child's play. Hook up your hard drive, connect your friend's, and WD TV's file management facility will let you select music, movie or photo files en masse and copy them from one storage medium to another. It's no drag-and-drop, but it's not particularly hard to do with the unit's small, nice remote.
Similar topics
Narrower topics