First Look At an Acer product launch in central London earlier today, Register Hardware got up close and personal with the firm's first netbook to ship with two operating systems.
The machine isn't actually a brand new model. It's the old Aspire One D250 – reviewed here – that's been out for since the Spring, just updated to run both Google's Android OS and the 32-bit version of Windows 7.
Can't see the video? Download Flash Player from Adobe.com
The first point to note is that despite this two-OS capability, you can actually only boot up into Android. Switch the machine on from scratch or do a restart, and you'll go straight to the Google OS.
To load Windows 7, you must first start Android, then select "Switch OS" from Android's slide-out menu and then wait for Windows to load up in the usual way.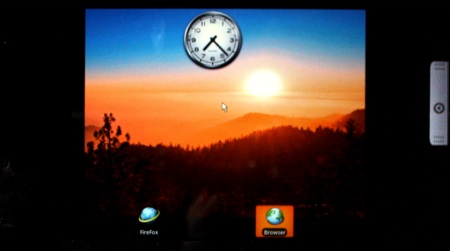 The Android desktop on the D250
Acer isn't clear about exactly why users can't boot the machine directly into Windows - there's no Grub-style 'Select which OS you want' dialog box at start-up. However, Jim Wong, Acer's Senior Corporate VP, told us that Android provides that "instant on" capability.
In essence, then, Acer sees Android as an alternative to offerings like DeviceVM's SplashTop - basic Linux distros designed to provide quick access to the internet and media files, but not much else.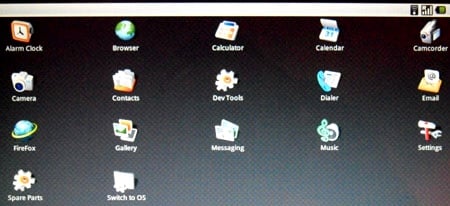 Acer's main slide-in-from-the-side menu
Indeed, Android on the D250 is basic. The desktop had just two icons, both of which were for web browsing. The main Android menu is slightly richer, containing icons for a picture/video gallery, another for development tools, one for messaging and another for, of course, the Windows boot-up.
Similar topics