Go MiFi - and ditch your iPhone?
Is that an 'Intelligent Mobile Hotspot' - or are you just pleased to see me?
---
The MiFi, or the "intelligent mobile hotspot", may sound like one of the most pointless devices ever created. It's a small, battery powered gizmo that converts one wireless network protocol (3G) to another even less efficient protocol (WiFi).
Why would you want to do that, you're thinking - gain the battery inefficiencies of WiFi and combine them with the data throughput of 3G? And then put up with the extra inconvenience of carrying yet another gadget, with yet another power charger, and add another point of failure into your life? But a month with the MiFi - courtesy of network 3 UK - has prompted me to think the unthinkable, and consider ditching my iPhone. Or at least go far enough down that road to do the sums.

The personal WiFi router is sure to get smaller and cheaper, but even as it is, it has some benefits. What MiFi does is decouple the net access point from the device. This has some very interesting consequences.
One is that you can immediately use multiple devices with your connection - the phone and the laptop, for example. Perhaps more significantly, you cease to depend on your phone for your data connection - something UK users do much less now anyway, with our competitive 3G dongle market.
It's also likely to stimulate the market for data devices which aren't hulking all-in-one smartphones. Of which a good example happens to be Apple's iPod Touch. Canny operators will see this and start to bundle Touches, or devices like them, as a customer retention tool. I can even envisage some old and forgotten form factors being revived. And rather than try to do everything, the phone will gradually begin to revert to a smaller, simpler, and more dedicated voice and text tool.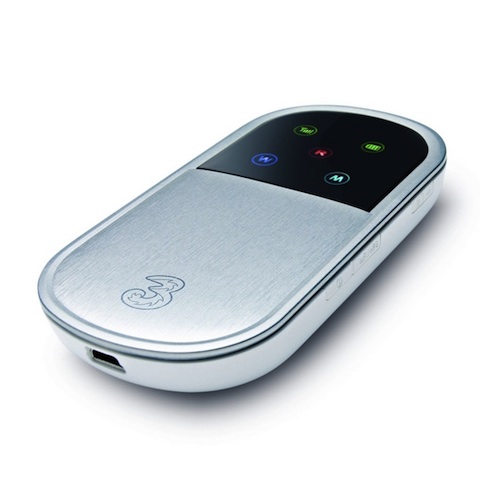 3's Me-Fi: a personal WiFi router
Additionally, a decoupled connection that creates an instant WiFi hotspot means some unusual social applications become feasible, if not exactly (as yet) easy. Personal radio stations, anyone? Real, personal P2P?
And if you have several data plans - perhaps one on your smartphone, one for HotSpots like The Cloud, and a 3G dongle too - then you can start to consolidate these.
But you can probably guess which of the practical reasons were behind my iPhone epiphany. O2's data network - when it's gasping to stay alive - is atrocious. 3G coverage is poor, and in many places even the E for EDGE doesn't appear. This doesn't do the phone, which is pretty good, any justice at all. Orange and Vodafone will make hay from O2's years of underinvestment.
But remember that most of what the iPhone can do, the iPod Touch can do too. With a MiFi, I'd have a data connection wherever there's a 3 network connection. And the 3 network is a hell of a lot better than O2. So Touch applications such as Mail, Maps and Safari suddenly become viable alternatives.