Hands on with the hardware
The mobile hotspot arrived in the US in the Verizon network in the summer, and in the UK last month on the 3 network. I was using a Huawei E5830. It came with its own mini-USB AC adapter, but it also charges off a laptop and a mini-USB to USB cable is supplied. Like many recent 3G dongles, it also has a microSD card slot.
Eventually these gadgets should be as small as a keyfob, but for now it's a little-finger-width longer than a credit card and as thick as an iPhone. The circuitry is tiny, but the bulk and heft of the device is taken up by a 1,500mAh battery.
After a 12 hour first charge (why can't manufacturers or stores pre-charge these?) you slide in the SIM and are good to go. The SSID and WPA password are on one of several idiot cards included in the box, and not immediately apparent.
There are three fiddly buttons along the side: Power, one marked "WiFi/WPS" - and one with a globe being orbited. Guess what that's for? It's the modem. The indicator lights showed a similar Korean genius for simplicity and intuitive design. Network reception and Battery are obvious, but W and M (guess again) are colour coded and I had to refer to the idiot cards to tell whether I was on 2G or 3G. I suppose it's useful to have WiFi with no internet.
Despite all this with both MacBook and iPhone I was online as soon as it accepted the password.
Unfortunately, you need the cable to configure the router. Plugging it into your PC, the modem's microSD card shows up as storage, and on it is 3's Mobile Manager software - that's pretty common with 3G dongles today. Unlike Vodafone, 3 doesn't supply Mac software on this drive - or anywhere I could find.
Use this to send SMS, change the SSID to something less ostentatious than 3WirelessModem-XXXX - and choose a new default passphrase. You can also set some firewall and DNS settings. If there's a web server configuration available, let me know, I couldn't find it - and if you've configured all this from a Linux to Mac box over a port - let me know too.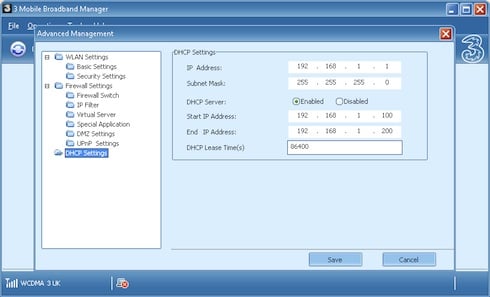 3's Mobile Manager
Perhaps because it's so new, it's poorly documented. The Me-Fi isn't listed with other mobile broadband dongles in the support section of 3's website - I eventually found some support pages via a user forum. I couldn't find Huawei's own user guide.
Although it supports 802.11g, Me-Fi doesn't give you 802.11g speeds of course - merely a gateway onto 3's network. It supports HSDPA 3.6 down; I comfortably got 2 mbits/s down. It's another reason why phone tethering has all but died out - you're not constrained by the Bluetooth pipe.
Battery reception is claimed to be five hours online, but to my surprise it could sometimes chunter along quite happily for longer. On one occasion, however, it had inexplicably run down overnight with nothing connected. A bug in the power management? More annoyingly, it occasionally took some cajoling to awake from sleep. These are minor problems but should be ironed out.
The only other glitch was what I considered to be an overly complex going online sequence. Power on and wait for the lights - then make sure you've pressed both the WiFi and [GLOBE?] buttons. This won't bother most Reg readers - but can't it be simpler? To fulfil its potential, the MiFi needs to be a no-brainer - which means it should not suffer power downs, and one simple slider should take the user from "Power Off" state to "WiFi on but no modem" to "Fully On".
Similar topics