This article is more than 1 year old
Hubble snaps aftermath of galactic pile-up
Unveils tell-tale, two-tail trail
The Hubble Space Telescope has captured an impressive image demonstrating what happens when two spiral galaxies crash into each other at high speed: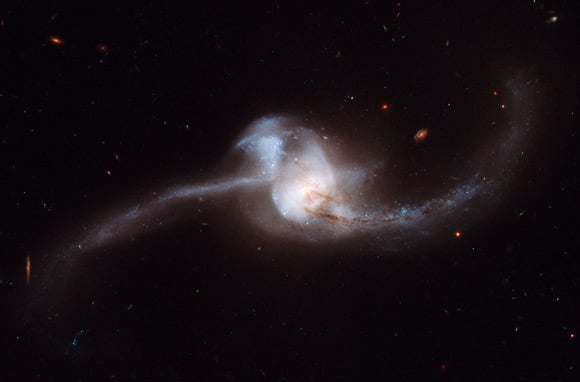 The European Space Agency's Hubble site explains: "Studies have revealed that as galaxies approach one another, massive amounts of gas are pulled from each galaxy towards the centre of the other, until ultimately, the two merge into one massive galaxy."
The above pile-up, dubbed NGC 2623 and lying 250 million light-years away in the constellation of Cancer, shows the "the late stages of the merging process with the centres of the original galaxy pair now merged into one nucleus". The evidence comes in the form of two "tidal tails", showing star formation provoked by the "dramatic exchange of mass and gases" during the collision.
NGC 2623 also boasts "an active galactic nucleus, where one of the supermassive black holes found at the centres of the two original galaxies is stirred into action". ESA elaborates: "Matter is pulled toward the black hole, forming an accretion disc. The energy released by the frenzied motion heats up the disc, causing it to emit across a wide swath of the electromagnetic spectrum."
Accordingly, NGC 2623 is "very bright in the infrared", and therefore qualifies as a highly-active "luminous infrared galaxy" (LIRG). It's been studied as part of the Great Observatories All-sky LIRG Survey (GOALS), with Hubble, NASA's Spitzer Space Telescope and the Chandra X-ray Observatory among those instruments helping to "further characterise objects like active galactic nuclei and nuclear star formation by revealing what is unseen at visible wavelengths".
ESA has more here, and a bigger pic of NGC 2623 here. ®