This article is more than 1 year old
Samsung GT-C6625
Basic business wannabee?
Review Windows Mobile smartphones with miniature Qwerty keyboards are rarely extremely exciting to look at, and the Samsung GT-C6625 is a case in point. Blocky hardware and a somewhat old-fashioned design, makes it look a couple of years out of sync with the latest smartphone trends.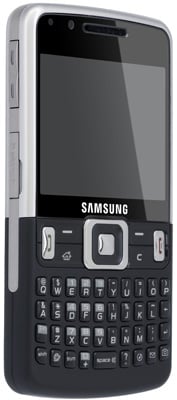 Samsung's GT-C6625: no Wi-Fi, but HSDPA 3.6Mbps connectivity
But put that aside and what you have here is a serviceable smartphone for text creators, be that mobile email, writing documents or simply plentiful SMS work. Our review sample came from Vodafone, where it is free on business tariffs. You can also get it SIM free for prices around £130.
There is no point coming to this handset with expectations of the very latest geekery because you won't find it. For a start, with Windows Mobile 6.5 just arrived its 6.1 Standard credentials might mean you decide to hang on for a successor with the updated operating system beating at its heart.
This is an HSDPA device, which means Web browsing, mobile email and other data rich activity is a definite possibility. It is a shame that the device only supports downlink connections to 3.6Mbps, though. With Vodafone having recently announced upgrades of selected parts of its network to 14.4Mbps and offering 7.2Mbps more widely, you may feel disinclined to top out at 3.6Mbps.
But then again, significant parts of the UK don't enjoy high speed data coverage, so this may be less of an issue depending on where you live and work. There's no Wi-Fi, though, so you are going to be reliant on network speed and contract minutes for data access.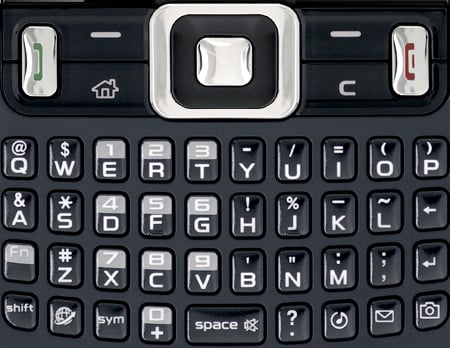 The well-spaced keys have a reassuringly positive action
More important, arguably, is the screen size. At 2.6in and displaying 320 x 240 pixels it is a reasonable size for viewing text, though complex Web sites are a bit squeezed. Still, you could download Opera to improve on what Internet Explorer offers. There's no screen rotation so you are stuck with a landscape format for the display. That's fine most of the time, and is the norm for Windows Mobile 6.1 Standard, but you may hanker for screen rotation if you see colleagues tilting and rotating their accelerometer-toting devices.