Samsung GT-C6625
Basic business wannabee?
At least you can partake of navigation with the built in GPS. Google Maps has been pre-installed, so you can make a start with location-based services. You can add third party applications for full point-to-point navigation. With 100MB of user memory built in and a side-mounted slot for an SD card, memory should not be an issue. Vodafone's Web site says cards to 8GB are supported, but we tried a 16BG microSD card and it was recognised.

Not the slimmest, but acceptable for a smartphone
The GT-C6625 weighs 109g, which is well within acceptable parameters for a smartphone. It looks a little on the chunky side but at 113 x 63 x 11.95mm it compares well, for example, to HTC's Snap at 117 x 62 x 12mm yet, thanks to its design, the Snap actually looks smaller and neater.
On the GT-C6625, the buttons under the screen are sizeable and comprise of two blocky Call and End keys, a large retro looking navigation button and flat, shiny softmenu, Home and Clear keys. The Qwerty keyboard is well put together and easy to use.
Individual keys are fairly large and, importantly, they are well spaced and raised from their surroundings. This tends to make for ease of use, and does so here. The keys depress a good long way and give a satisfying click, which are two more characteristics of a good keyboard.
On the keyboard's bottom row are dedicated shortcut keys to the Windows Media Player software, Messaging, Internet Explorer, and the built in camera. With a long press on the space bar you can mute the handset.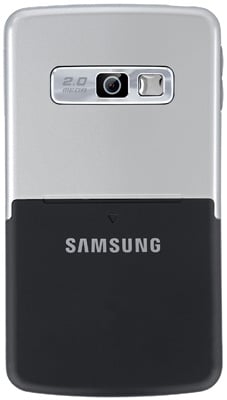 Just a 2Mp camera – and that's a mirror, not a flash, next to the lens
Having mentioned the camera, let's give it a bit of airplay. It shoots stills at 2Mp, video is limited to 320 x 240 and 176 x 144 resolutions. The camera is quite short on features, though Samsung shows a bit of a split personality – as it often does with its business focused handsets – by offering among its options, a funny mask mode which variously overlays things like headphones, rabbit ears, tears and glasses onto photos. Smile detection is here too, but there is no flash.