Samsung GT-C6625
Basic business wannabee?
Vodafone, like many others before it, is not too enamoured with the Microsoft user interface, and has installed its own over the top. This gives you a home screen with a vertical side panel of menus through which you can step using the navigation button.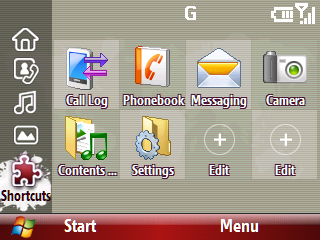 Buyers from Vodafone get a customised interface
One of these can be populated with eight shortcuts to applications or services on the handset. You can access everything via the Windows Mobile Start softmenu as is usual.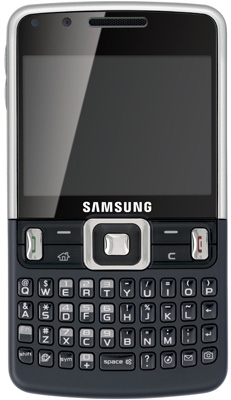 Ticks most of the boxes for low-maintenance business users
When it comes to software the Windows Mobile 6.1 Standard applications, including MS Office viewer, have been bulked out a bit. We've already noted Google Maps. There is also an FM radio. Alas, audio playback requires the use of Samsung's headset whose proprietary connector shares the same slot as mains power and PC sync cable. Music quality was surprisingly good through the provided headset, but its flat-in ear buds aren't the easiest to keep in place – in our ears anyway.
There's an app called D-Day, which we've seen before from Samsung and it offers a count down to any dates you choose to enter. As it merely duplicates the Outlook sync'ing Calendar app's ability to store dates, we aren't sure it will be overly popular. There is a PDF reader, unit converter and stopwatch too.
Verdict
Call quality was fine. Samsung rates the battery life as 8 hours GSM talk, 500 hours GSM standby. We got about three days from it between charges, though if you are heavy on the built-in Bluetooth, GPS or HSDPA you should budget for more frequent charging. Yet all told, there's nothing here that makes the Samsung GT-C6625 stand out from the crowd. Even so, this is a solidly built smartphone with an excellent Qwerty keyboard and GPS to boot. ®
More Qwerty Phone Reviews...

Nokia
E55

BlackBerry
Curve 8520

Acer
Tempo M900

HTC
Snap

Samsung GT-C6625
Slim on smartphone features, but a solid performer for run-of-the-mill business use.