Review PLDS is a joint venture between Philips and Lite-On that develops optical disc drive technologies and markets related products. The PLDS iHES208 internal drive is new take on the 'combo' drive concept, providing complete CD and DVD reading and writing functions, plus the ability to play Blu-ray titles at full 1080p quality. Indeed, its Blu-ray functionality makes it a tempting upgrade for your PC's existing internal CD/DVD writer, while possibly also improving your disc writing speeds too.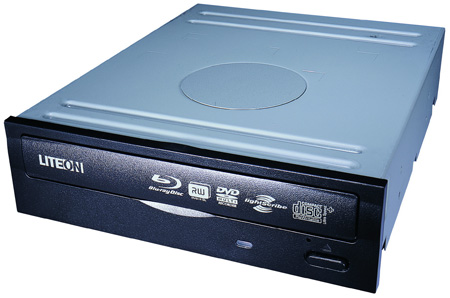 Joint effort: the PLDS iHES208 is a combo of manufacturers as well as optical media
As a Sata drive, the iHES208 is relatively simple to instal, especially if you are replacing an existing CD drive. If you want to instal it as a second drive, you will need a spare CD drive bay, a spare power supply plug-and-cables, and a free Sata port on your motherboard. Whatever you do, make sure your motherboard provides Sata support, since you will not be able to fit this product in legacy PCs. It is also worth noting that the iHES208 is a Windows-only product.
The drive reads single-layer Blu-ray discs at 8x and dual layer at 4x. It can write to DVD+R and DVD-R discs at 16x, and to rewritable DVD media at between 6x and 8x. It is a 16x reader for all types of DVD. The iHES208 is also a 48x CD-ROM reader, 48x CD-R writer and 32x CD-RW rewriter.
After installing the hardware, we found that the iHES208 could operate as a regular CD writer straight away without adding any software. For full rewriter and Blu-ray support, however, you will need to install the CyberLink Blu-ray Disc Suite provided. This is a rather long installation, unfortunately, and no sooner had we launched the program for the first time than it prompted us to download a newer version and do it all again.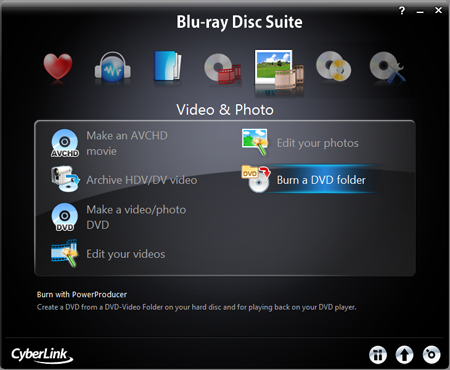 The supplied Cyberlink software is very effective and leaves little to complain about
The trouble was worth taking as we found the iHES208 to be a fast, reliable and (most importantly) quiet drive in operation. The last-mentioned makes it ideal as a movie player on a home computer since you are going to be sitting a mere couple of feet away from the drive while the player is running. Equally, if your PC hardware can support it, the drive and its bundled software correctly delivery a variety of multi-channel audio options as offered by the Blu-ray or DVD title itself.