Overall though, it works well – if you have the same contact in Facebook and Google Contacts it will roll them both into one entry, making looking up and contacting people easy. It also streams instant messaging into SMS messaging – so if someone contacts you by IM you can reply by text or vice versa.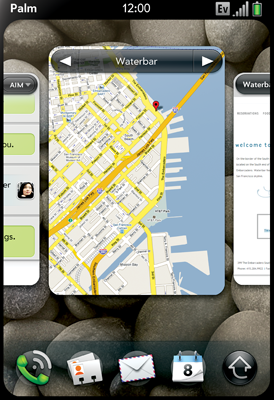 Multitasking support delivers a more versatile user experience
Not being able to multitask on the iPhone is why you can't listen to music on Spotify and browse Google Maps, for instance. WebOS feels like it's been built with multitasking in mind the whole time. Every application runs on its own Activity Card, and the button beneath the screen is the Pre's equivalent of Alt-Tab; zooming out from your current application and allowing you to swipe sideways to get to different applications. Closing an application is satisfying – just flip it off the top of the screen with a finger.
It works superbly on the Pre. In our tests, we ran multiple applications, including Google Earth, the Pre's photo viewer, email client and YouTube and didn't experience performance issues. Switching between applications is smooth, and being able to switch between the calendar and Google Maps, for instance, makes finding your way to elusive meetings easier.
There are other neat navigational touches. The space immediately below the screen is touch-sensitive as well: swiping to the left and right work as back and forward commands respectively – this works in most applications, not just the browser.
Browsing the Internet on the Pre is a simple pleasure. A double tap on the screen zooms in to the width of a column, and, like the iPhone, pinching in and out works too. There are plenty of data connections – 3G is the headline act, with EDGE a useful backup for when you're out in the sticks and 802.11b/g wireless filling in for home duties. The only annoyance with the web browser is the apparent lack of a custom '.com' button, which would save a bit of time typing in addresses.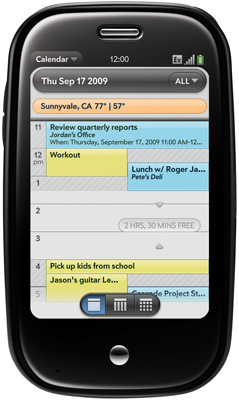 Google and Facebook details can be downloaded to the Pre
The rest of the internal hardware is straightforward. A GPS chip allows you to use location-based services, and there's 8GB of internal memory for music and so forth. It's a respectable amount of space for video and so on, although it doesn't challenge the 16 and 32GB iPhones. Yet there's no memory expansion in the form of a micro-SD card slot.