The shiny black plastic has a weight to it that makes the Pre feel expensive. The back is curved and, when the phone is slid open, it presents a satisfying shape to the hand that you're unlikely to drop. Compared to the best efforts of, say, Samsung or HTC, the Pre is beautifully designed.

Cutting edge design? But not in the way Palm intended
Until you open it, that is. The first thing you'll notice is the lip at the very bottom of the handset beneath the keyboard. It's sharp enough to cut things, and although you're unlikely to do yourself much accidental mischief, such a sharp blade is very much at odds with an otherwise smooth piece of design. The sliding mechanism on our review sample also seemed a little loose for a brand-new phone.
Once or twice snapping the Pre shut caused it to power off. The second problem is the keyboard. There are no onscreen keyboards on WebOS – the screen would likely be too small for one anyway – so the four-row Qwerty keyboard is all you get, and unfortunately it's a stinker.
If you've used the Palm Treo the keyboard will be familiar, and it's true that it's easy enough to work up a fair head of steam after some practice. But to us the keys felt stiff and the rubbery finish is unpleasant. The top row of keys is too close to the bottom edge of the top half of the sliding mechanism and you need to contort your hands to type. It compares poorly to the Nokia E71 and very badly to the BlackBerry Bold.
Then there's the question of accuracy. Apple's message to iPhone newbies if they make a mistake halfway through a word is to keep typing and trust the phone to correct it and, on the whole, it's very effective. The Pre, although inherently slightly more accurate because of the physical keyboard, doesn't offer anything like so clever a solution.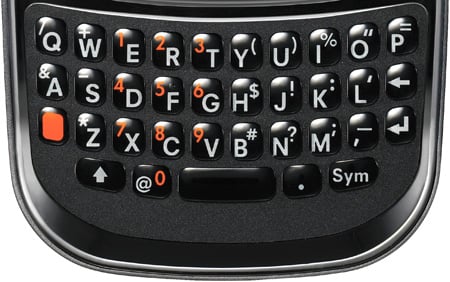 Using the keyboard certainly takes some getting used to
It will catch and auto-correct normal spelling mistakes, popping in apostrophes and the like if you forget, but if you type "pixza" it won't guess that you meant "pizza". Typing long messages – particularly emails – is exhausting. The uncomfortable keyboard, coupled with the need for unstinting accuracy, takes a lot of joy out of using the Pre.