Fast USB 2.0 Flash Drives
We test vendors' top-speed offerings
Group Test Anyone else remember how the death of the floppy disk was supposed to mean the end of the 'sneakernet' - files exchanged physically on a handy, portable storage format?
It never happened. Instead, floppies were briefly replaced by higher-capacity media like Iomega's Zip disk and then, when USB really took off, Flash drives. Nowadays, Flash drives are so ubiquitous you can pick low-capacity ones up for nowt at trade fairs.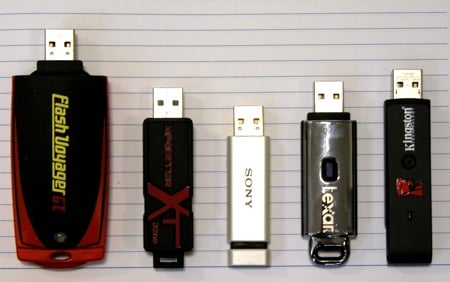 Flash for Freedom: L-R Corsair Voyager 128, Patriot Xporter XT, Sony Click Excellence, Lexar Lightning and Kingston DataTraveler
The freebies might do for some folk, but plenty of us prefer something rather faster than oh-so-slow giveaways. USB 2.0 helped a lot, but there's still room for improvement, and drive makers are pushing ever faster drives. USB 3.0 will change the game, but it'll be a while before compatible Flash drives arrive - let alone low-cost ones.
We asked the main Flash key makers to lend us their fastest drives. We've focused on speed, but we've factored in portability, solidity and price when we came to choose our Recommended and Editors' Choice products.
The drive sequential and random read and write speeds were tested using CrystalDiskMark 2.2 running on a Windows XP Service Pack 3 machine. The drives were set not to use Windows' disk cacheing.
Since Flash drives aren't generally used as SSDs - you'll grab a file or two off it, but you won't be shuffling data back and forth almost constantly - the random results are less relevant here, though they give an indication of how good they drives are at transferring large numbers of small files. These products are used for bulk transfers, so it's the sequential speeds we're most interested in here.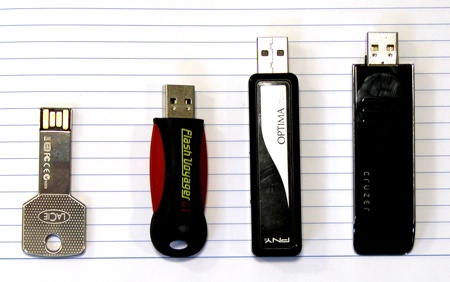 (L-R) LaCie IamaKey, Corsair Voyager 32, PNY Optima and SanDisk Cruzer Contour
We also tested real-world data read and writes on a MacBook Air using a single 2GB file and a 1GB folder containing 100 10MB files. The test files were copied to the drive, duplicated on the drive and then copied back to the host machine. We timed each transfer then fully shut down the machine, waited 15 seconds or so, and rebooted to test the next product in the list.