PNY Attaché Optima 8GB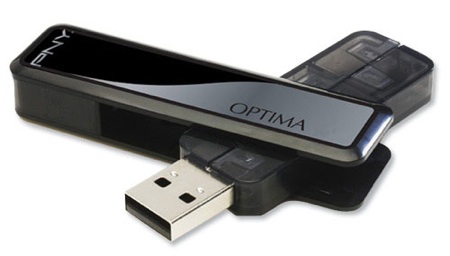 PNY's Attaché Optima is probably the oldest of the drives on test but it still put in a performance that kept it ahead of the likes of Kingston, Patriot and - for write-speed at least - Sony. It's a good mid-ranger, in other words.
Like the Kingston drive, the PNY is a two-part product that swivels around a point to cover the USB connector. Here, though, it also slides in a way to tuck the connector into a bay at the end of the cover. It's a neat mechanism, though it makes the flimsiness of the plastic casing obvious, unlike the metal cover of the Kingston. But it's no more or less brittle than the Sony.
Rating 65%
Price £25 Click here for the best online price
More Info PNY's Attaché Optima page
Sony MicroVault Click Excellence 8GB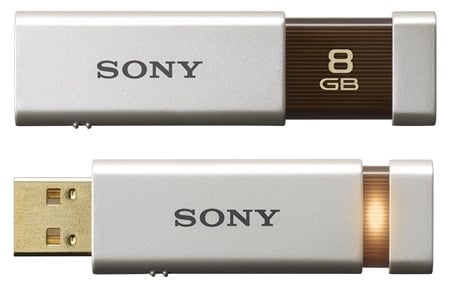 Sony's Click is the lightest and smallest of the drives we tested but, thanks to its all-plastic casing and loosly sprung slider mechanism, felt the least rugged. Only the Iomega IamaKey is thinner. It's a good looking drive.
The Click gets its name from the spring-loaded retractable USB connector. Push one end in to expose the connector, then push it again to release the catch and spring the connector back inside the casing. The resistance of the connector in a USB port means that when you pull the Click out of a the port, it also triggers the release mechanism.
The Click posted some very good real-world read speeds, though CrystalDiskMark was less keen and it hung around the bottom of the list of drive write speeds.
Sony bundles a capacity doubler utility, but that shouldn't detract from the fact that this is pricey for an 8GB drive.
Rating 70%
Price £40 Click here for the best online price
More Info Sony's MicroVault Click Excellence page