Leccy Tech German car firm e-Wolf has unveiled plans for a leccy "extreme sports car".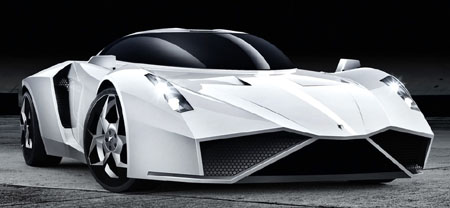 E-Wolf's e-2 will be powered by four leccy motors
Due to run as a prototype in 2011 and enter limited production soon after, the e-2 will be powered by four electric motors producing a combined power output of over 400kW (536hp).
The e-2's combined torque output will be in the region of 1,000Nm (738 lb/ft), e-Wolf said.
Since the e-car's entire weight is less than 900kg (1980lbs), we'd expect its acceleration to be brisk. Indeed, e-Wolf claimed that the car will go from 0-62mph in under five seconds and then power on to a top limited speed of 155mph.
Inside the e-2 is an 84-cell, 84kg (185lb) lithium-ion battery pack, about which few details are yet known. But e-Wolf's promised that a full charge of the car's battery will be good for around 300km (187 miles).
The e-2 certainly looks the business with its sharp lines and Lamborghini styling. But e-Wolf's also planning to make the e-car sound the business with an "acoustic safety module" that will apparently pump out sounds commensurate with the car's looks.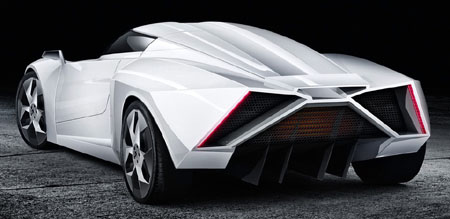 Limited production will start in 2011
Based on the car looks, we'd guess that the acoustic safety model will make the car sound like a Formula 1 racer or F22 Raptor. Though we're sure buyers could tinker with the car's digital audio tech to make it sound like an ice-cream truck or Fiat Panda, you know, just for fun.
E-Wolf's yet to release a price for the e-2, but it's probably safe to assume that the asking price will be somewhere north of very expensive. ®