MSI has introduced its latest nettop, touting the skinny clamp-on-the-back-of-your-monitor machine as a "great value... entertainment experience".
MSI's claim that the PC, the Wind Box DE200, can put you "right inside the classiest cinema" with a big dose of sodium chloride, but the machine does have an HDMI port and is able to display content at 1080p through its unnamed discrete GPU.
The graphics chip supports DirectX 9 but no further.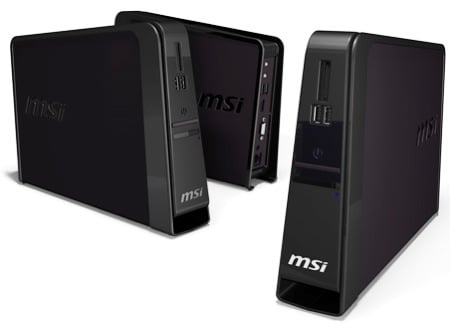 MSI's Wind Box BE200: ready for smooth full HD playback?
MSI is also offering the Wind Box DC200 which drops the GPU in favour of the integrated Intel GMA 950 core. The DC200 also lacks the HDMI port.
In other respects, the two PCs' specs are identical. Highlights include: 802.11n Wi-Fi, Gigabit Ethernet, 1GB of DDR 2 memory, a 160GB hard drive and an Atom 230 processor.
There's a Vesa mounting kit in the box.
Expect the DC200 and DE200 to go on sale shortly, though MSI has yet to say how much either machine will set you back. ®