This article is more than 1 year old
Interead Cool-er
Reading: the future?
One of the things an eBook reader should be able to do is to return to the page of the book you were on when you switched it off. The Cool-er doesn't do this. When you start it up, it takes you to the top-level menu and you have to drill down to the book you were reading and re-open it. It does then remember the page, but the whole process takes the best part of a minute, rather than being instant.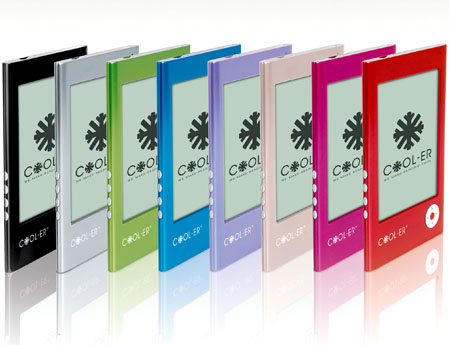 Wonka-bar colours should fit most tastes
Interead advises disabling the auto-shutdown, in effect, leaving the reader running all the time. While its E-Ink display may only take power on a page turn, there's a processor running OS and reader software and that takes juice all the time. Even so, you should measure the battery life in weeks rather than days – it recharges automatically using its USB connection.
Verdict
The Cool-er has all the hallmarks of a product in Version 1. The interface needs to be a lot more intuitive and the reader needs to handle supported document formats more accurately. With recent news of Asus intending to release an eReader for under £100 by Christmas, the Cool-er and others are also looking too expensive. ®
More Tablet Reviews...

iRex Digital Reader
DR1000S

Toshiba
Portégé M750

Group Test
Electronic book readers

Nokia N810
Internet tablet

Interead Cool-er
The basics are there, but there are a lot of rough edges to it, compared to the others like the Sony Reader.