This article is more than 1 year old
Adam Curtis uncovers the secrets of Helmand
Heroin, hippies and hero engineers
Documentary filmmaker Adam Curtis is trying something new on the web. It's unearthing a secret, patchwork history that reads like a novel. It's about Afghanistan, and what he calls "our dreams of Afghanistan, and their dreams of us".
As part of a mission to unearth lost gems from the BBC archive, it's full of extraordinary stories - how hippies created the heroin business, for example, or how American engineers tried to build a model democracy in the 1950s. It's old fashioned journalism, the kind that TV news seems reluctant to do. Adam kindly offered to explain it to us.
If you've missed it, here are Kabul, City Number One Kinshasha, City Number Two, and The Secret History of Helmand. Much of what we discussed follows on from the latter - which explores the grand, techno-utopian designs of US nation building in the 1950s.
Q. When people read it, people who know your work, they'll recognise a few familiar Adam Curtis themes. What was it that caught your eye?
I was completely shocked by the way it was being reported. Our relationship to Afghanistan the way it's reported now is not even two-dimensional, it's one-dimensional.
Documentaries, and a lot of television now, is possessed by the mantra that people will only watch your film, or listen to your program, if it "touches something in them". So the reporting has to find something in Afghanistan that's some terrible thing that has happened "to somebody like you, or just like your child".
It's done with the best intentions, and a certain kind of desperation to keep an audience. But it makes it more and more incomprehensible. Because it becomes a land full of victims and out there in the darkness, dark forces we don't understand.
I'm trying to build up a body of evidence of just how complicated our relationship to that country has been.
One thing that fits in to your canon is psychologists, and another is nation building, with both sets of people trying to form society to a model.
I did not know America had tried a kind of nation building before. The whole idea that you could use scientific ideas to substitute for what was essentially a political project. That instead of political fallabilities you have a series of certainties - scientific principles - on which you could build nations. They really did believe that. But they tried it on Afghanistan and it's one of the biggest they ever did. It shocked me.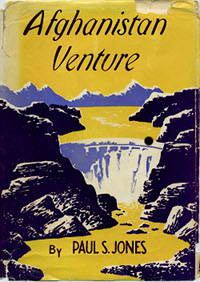 Like everyone else I have watched the picture of Helmand, and had the impression that this is a dusty old landscape where we've disturbed something really complicated. To quote: "It has been there a long time, we're better out of it."
It's not, it's a bit more like Ancient Greece, we're fighting amongst the ruins of one of the giant American technocratic projects. In five years nobody's done a proper history.
Documentary strands have become very worthy - it's as if they're not addressing us as an audience, but policy makers. And they start with the basis that it's an intractable problem.