Barnes & Noble whips out Nook e-reader
Wants to screw over Kindle
---
Details of Barnes and Noble's electronic reader hit the internet today ahead of the device's expected launch.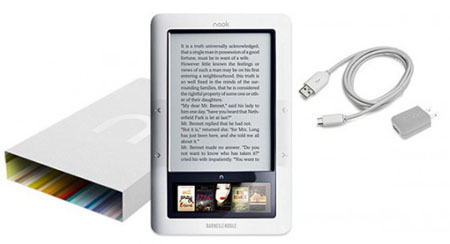 Nook: The Barnes and Noble e-reader
Details of the electronic reader leaked onto the web today, and seemed to set tech writers drooling. The machine will be based on Android and features a touchscreen.
It's packing wireless updating from an unnamed carrier. The price tag will be $260 (£157/€173), in line with the Kindle, and with the promise of discounted e-titles and Google Books titles.
Other features gleaned by the WSJ from an ad set to run in the New York Times include the ability to "lend" e-books to friends.
The leaked photos were enough to prompt Wired to declare the Kindle "old-fashioned looking" by comparison.
However, it is the name which is certain to grab most attention - at least in certain English markets. It's a truism that it is porn that drives the adoption of all new technologies, so it is refreshingly honest of B&N to dub its new baby the Nook e-reader. With the accompaniment of an appropriate range of Nook e-books, how can it fail? ®