This article is more than 1 year old
Canon Pixma MP560
More than just a model refresh, apparently
Review Mid-range, inkjet all-in-ones are the mainstay of most printer makers' catalogues, so for one to stand out, it has to offer extra features, better performance or improved cost of ownership to get noticed. Canon has introduced the Pixma MP560 to build on a successful design in at least two of these three ways.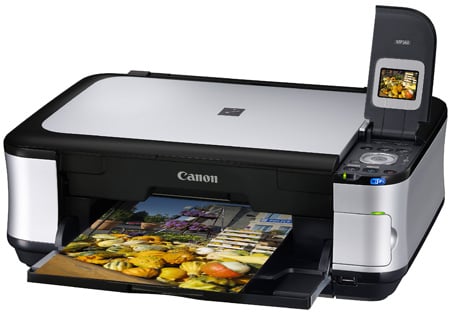 Canon's Pixma MP560: the changes are more than cosmetic
There are many instances when a new printer model is nothing but a replacement for one that's gone before, often with more minor cosmetic changes than between this year's and last year's Ford Fiesta. However, that's not the case with the Pixma MP560. It may appear like the MP540, but actually has a lot more going for it.
Indeed, it looks much like Canon's recent run of all-in-ones, coloured in silver and high-gloss black plastic, but the concave sides are less pronounced and it's a little squatter than its predecessor. At the back, a flap folds up and lifts to become a 150-sheet paper tray for photo sheets, though it can be used for special media, like letterheads, too.
Underneath is a 15-sheet, plain paper tray, which feeds each page through 180 degrees before printing; like an HP inkjet. All pages end up on the fold-down front cover of the machine, which becomes the output tray. It drops automatically, a nice touch, if you try to print without opening it first.
Lift the cover at top, front right to reveal the control panel, together with a 50mm LCD display in the cover lid. Controls are big and clearly marked and incorporate Canon's clickwheel – the easiest way yet of moving through a menu without having a touchscreen. Two large buttons set at the front of the panel offer black and colour copies and there's a large cancel button, too.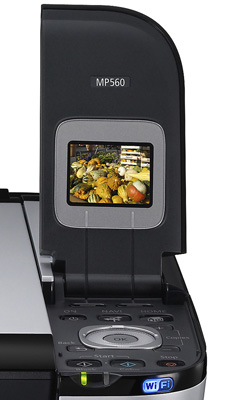 The clickwheel makes it easy to flick through menus
Set into the right front edge is a rather flimsy plastic cover, which hides three memory card slots. There are the standard two, which between them cater for SD, MemoryStick and xD, but there's also support for CompactFlash, which most of Canon's rivals have dropped. If you have a semi-pro digital SLR, this continued support for the older format may swing your choice.