This article is more than 1 year old
Canon Pixma MP560
More than just a model refresh, apparently
At the back is a single USB socket, but many will buy this machine for its wireless connection. The Pixma MP560 supports WPS and WPA, so even if you don't have a router with WPS you can still connect pretty painlessly. The machine searches for wireless networks within range and you then enter your passphrase using the clickwheel. It's a bit longwinded, but preferable to a temporary USB connection, that other machines require.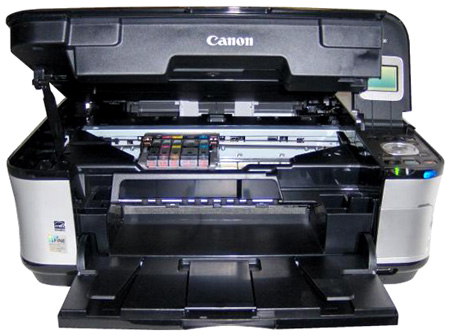 Easy fit for all cartridges, including two blacks
The five ink cartridges – CMYK and a pigmented black for text – clip into the head in moments and red LEDs confirm correct insertion. The corresponding LED also flashes when a cartridge is empty – this is one of the best consumables systems around. Canon provides drivers for Windows from 2000 SP4 on and for OSX from 10.3.9, but returned no results for either Linux or Unix on its driver-support site. Drivers for the MP540 should support some functions, though not the Wi-Fi connection, of course.
Thanks to the ISO, some sanity has been restored to speed claims in printers. Canon claims 9.2 page images per minute for black print and 6.2ipm for colour. The ISO tests still don't include page rasterisation time, only the time to actually print the pages, so the results we saw, 7.0ppm and 3.4ppm still fall some way short, but they're at least in the right ballpark.
They compare well with results from some similarly-priced inkjet all-in-ones, such as the Epson Stylus SX415 (4.0ppm and 3.1ppm), but less well with others, like the HP OfficeJet 6500 (9.0ppm and 3.9ppm). Duplex print is designed to save paper and with a ream costing around £10, it can make a worthwhile difference over a year, even if you don't print that heavily. To be of any use, though, it has happen at a reasonable speed. That, sadly, isn't the case here.
Our 20-page, black text document took 2:52 to print single-sided, which equates to a speed of 7.0ppm. This is not at all bad for a mid-range inkjet all-in-one, but when you cut in duplex print, the same document takes 9:45, a mere 2.1 sides per minute, or 1.0ppm.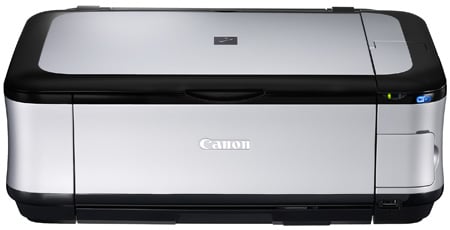 CompactFlash is still an option
This is painfully slow, partly because of the 8-10 second drying time inserted between printing the front and back sides of each sheet, but also because of a number of unscheduled stops, when the printer didn't seem to be doing anything in the way of housekeeping, just idling. These pauses didn't occur during single-sided print. Overall, we can't see anybody but a committed Green opting to print all duplex on the MP560.