This article is more than 1 year old
HTC Touch 2 Windows Mobile 6.5 smartphone
Going too far back to basics?
We like the way Microsoft has tried to make its user interface more finger friendly and we are generally in favour of TouchFlo. But don't let the hype catch you out. Neither WM 6.5 nor TouchFlo take away the need to resort to the stylus with irritating frequency.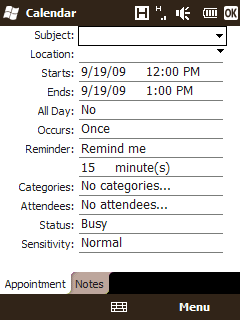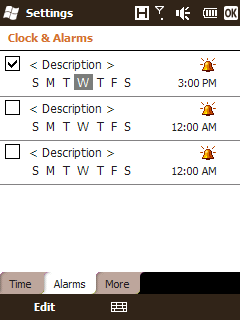 Too often the new WM 6.5 look reverts to a very old-style one
Take one example. You want to set an alarm. Switch the device on at the new Windows Mobile 6.5 lock screen, which means swiping a slider to unlock the device. Next, tap the area beneath the screen and next to the date. Low and behold, you are into the same Windows Mobile Clock and Alarms screen as in WM 6.1, 6.0 and before, and you'll almost certainly need to whip out the stylus to access the settings.
This holds true for many other aspects of device use. Setting appointments, entering contacts and typing emails, are just three examples.
HTC has enhanced the standard Windows Mobile Qwerty keyboard, as it has done in the past, so that the keyboard is larger and includes a tap-and-hold feature that lets you get second functions such as brackets, the @ symbol and numbers. But the overall screen size of the Touch 2 is small - just 2.8in with 320 x 240 pixels - which means the keyboard itself is squeezed. There's no accelerometer, so no larger keyboard in widescreen mode.
These two factors also get in the way of finger-friendliness, and we really think HTC should have included an accelerometer to assist with this. Its absence also detrimentally affects Web viewing, as you can't get a wide screen mode here. Incidentally, despite Microsoft's enhancements to Internet Explorer with Windows Mobile 6.5, HTC opts for Opera as its Web browser of choice, though IE is here too if you really want to use it.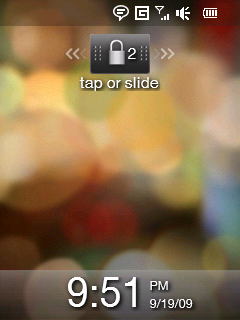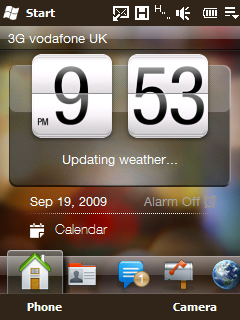 Slide to unlock. Go straight into TouchFlo. Do not pass go. Do not collect £200.
The flip side is that if you're looking for a small and light device, the Touch 2 is possibly going to be right up your street. It's 104mm tall, 55mm wide and 12.9mm thick, and weighs 110g. The build quality is good, though the physical design is fairly dull, looking like HTC handsets of yesteryear .