This article is more than 1 year old
Brother creates direct retinal imaging specs
Eyeball projector lets you view pictures in complete privacy
Brother has developed a pair of high-tech specs that could soon let you openly view naughty images or read top secret documents in complete privacy.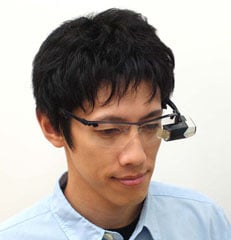 Brother's Retinal Imaging Display glasses
The firm's specs are based on Retinal Imaging Display (RID) technology which projects light directly onto the wearer's retina. The viewer sees the image as a pictures in front of their eye.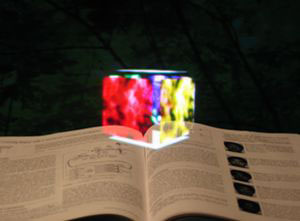 A conceptual image of the visual field seen
Each projected image, Brother said, is transparent and appears as a 10cm² object at a distance of 1m.
Images also have an 800 x 600 resolution. The picture is refreshed at 60Hz, Brother added.
The firm's specs consist of three core parts: an optical scanner, eyepiece, and light source made-up of red, green and blue laser diodes. This light source hides within the gadget's power box, which measures 95 x 170 x 30mm.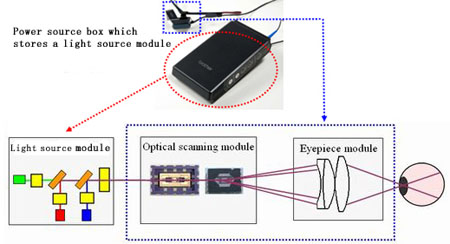 Colour images are produced using red, grenn and blue laser diodes
Brother has plans to commercialise the glasses next year, but it hasn't said how much it expects the specs to cost. ®