If you've been wondering what's so magical about Apple's new Magic Mouse, you aren't alone. US repair-and-parts shop iFixit has been asking itself the same question, so it took the mouse apart to find out.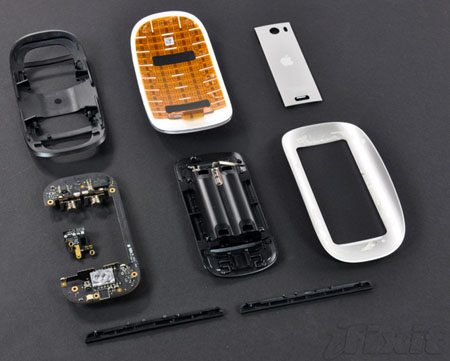 Apple's Magic Mouse, as dissected by iFixit
The Magic Mouse comprises of an aluminium base, topped off with a smooth multi-touch panel that iFixit said gives the device a "lustrous buttonless appearance".
Unlike its predecessor - the Mighty Mouse - the Magic Mouse relies solely on gesture-based controls. You can, for example, scroll in any direction with one finger or swipe through web pages with two fingers.
IFixit's teardown discovered that there isn't actually any magic to the Magic Mouse.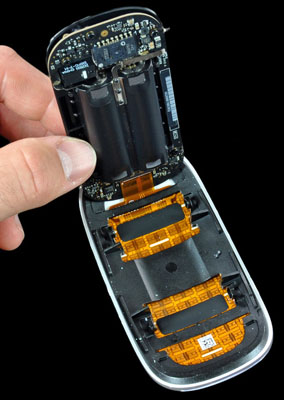 Batteries, touch sensors and a Broadcom chip make-up the Magic Mouse
The underside of Magic Mouse's top surface is covered with orange capacitive touch sensors that pick-up the user's finger movements, the firm said.
From here a Broadcom Bluetooth chip allows the Magic Mouse to talk to its host.
Magic Mouse – which can be ordered online now for £55 ($90/€60) - is powered by two ordinary AA batteries.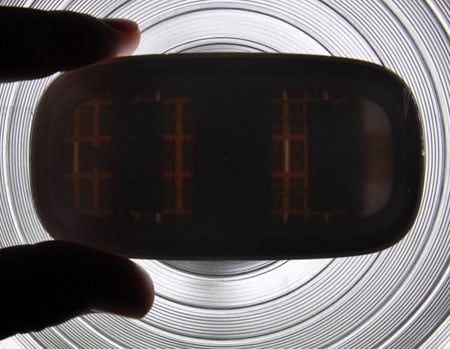 The top of the mouse is translucent
Further information about the Magic Mouse teardown is available from iFixit's website now. ®
Similar topics