Review The low end of Iomega's StorCenter range, the StorCenter ix2, is noisy, slow and lacking quite a few features you'd expect on a £300 Nas. The new StorCenter daddy, the ix4-200d, is in a different league in the speed and noise categories though, which you'd expect for 600-plus quid.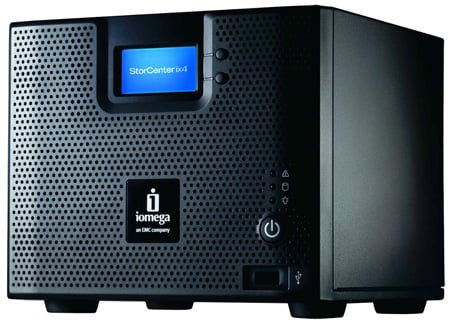 Low power, high capacity: Iomega's StorCenter ix4-200d
Inside its squat, 16.7cm tall case, there's a 1.2GHz Marvell 6281 CPU with 512MB Ram and four hard drives offering 2TB, 4TB and 8TB capacities. These are chopped into Raid 5 by default, although Raid 10 and JBOD formatting is also available.
There are two USB ports and two gigabit Ethernet ports on the back with one USB port handily placed on the front. There's no eSata port to speak of though. A blue-backlit LCD is built into the front face, cycling through free space, time, date, IP address and current function. The current function, combined with two buttons, lets you select whether or not to transfer the contents of USB devices to the internal hard drives.
The headlining feature for many Iomega Nas drives is VMware certification and the ix4-200d is no different. Iomega's parent, EMC, also owns 84 per cent of VMware so, with a yell of "synergy", you are able to use VMware in conjunction with the ix4-200d.
In effect, you can store your OS images in Nas or iSCSI mode. VMware doesn't offer specific support for Iomega Nas boxes, an Iomega spokesperson told us, but the ix4-200d has gone through a vigorous testing process to make sure the two work properly together.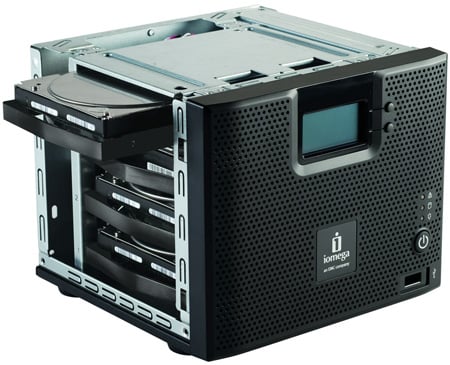 Drives slide in and out easily and have good noise insulation
If you take the VMware certification out of the equation, the ix4-200d is reasonably priced for the traditional Nas features it offers. We reviewed the 2TB Buffalo TeraStation III in June, which sells for around £600 and is direct competition for the ix4-200d.