Review We approve of the ongoing miniaturisation of external hard drives, but the process has its limits. Western Digital's latest My Passport Essential is among the smallest drives of its class, but WD's choice of a tiny connector could be the product's downfall.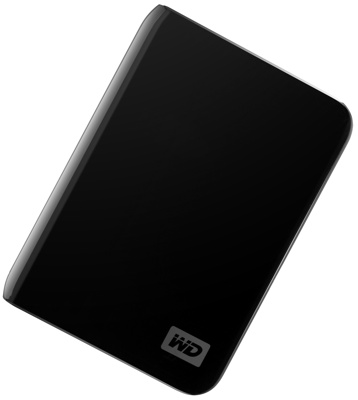 WD's My Passport Essential: quirky, asymmetrical notebook design
Available in capacities ranging from 250GB to 640GB - we tested the 500GB model - the new MPE is comes in a glossy 110 x 83 x 15mm casing offered in five different colours. It's just smaller than Samsung's wee S2 Portable and similarly bus powered.
The casing is curiously asymmetric, WD having applied the broad characteristics of its desktop My Book drive range to the smaller, portable offering. Three edges are flat, the fourth convex, giving it the look of a Moleskine notebook, though the WD is smaller. You can seen people carrying it cupped between fingers and palm.
The activity LED is located on the spine of the 'book'. But this volume isn't designed to be kept upright. The flat edges aren't sufficiently level to allow the MPE to stand on its end. Knowing this, WD has equipped the drive's base with four tiny rubber feet.
So if the MPE is supposed to lie flat, why not design it that way from the start, as LG did with its XD2? Essentially, it's taken the previous, more book-like My Passport design, whittled it down and added curves as if it's transforming the line from mini My Book to its own look. It should have gone the whole hog.
The MPE's single port is a micro USB slot. Now, we have our doubts about the mini USB ports when it comes to external hard drives because the connectors generally - there are exceptions - fit too loosely within the socket. However, they have the advantage of standardisation: the mini USB cable supplied with one product can be used with another.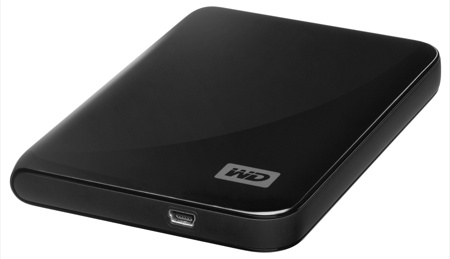 If only the connector was a mini USB port...
The WD drive has no such benefit and, worse, its socket and bundled cable conjoin even less snuggly than their mini USB siblings do. We'll go further: the two parts fit together so loosely that it doesn't take much of a tap to dislodge them far enough to disconnect the drive from a host computer.