WD's back-up software is straightforward, copying selected types of information - Mail, Movies, Documents, for example - onto the MPE and, if necessary, back again to a single folder on your hard drive from where you can move the files to their original locations, or to the places they were copied from. Up to 25 versions of each file will be backed up, though the default is five. Files can be be restored en masse or on an ad hoc basis.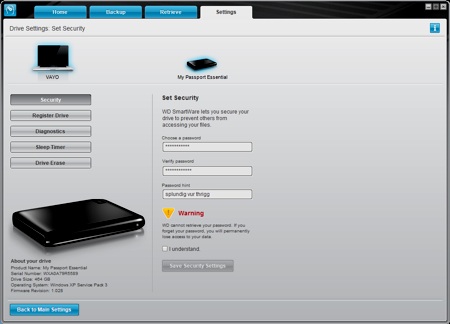 Click for a full-size screenshot
You can also apply a password to the drive and, thanks to the inclusion of both Windows and Mac software, you can operate cross platform. To an extent. Downloading Windows SmartWare updates doesn't patch the Mac files, which isn't multi-platform friendly. And just to confuse matters, the updaters have different version numbers - Mac installer 1.0.4 installs SmartWare 1.1.1.3, while Windows Installer 1.0.12 installs SmartWare 1.1.1.6.
Fair enough, Windows and Mac versions needn't have the same version number. But since this is all being done in the name of clarity for consumers, wouldn't it be better if they did? The two apps are supposed to be identical an all respects other than the platform they run on.
Still, it's not a bad bundle and it does at least run on two different platforms, something many rival drive makers don't yet deliver. It comes at a reasonable price, too: £90 for the 500GB model, though you'll pay around £75-80 if you shop around, a lot less than LaCie's metal-cased Starck drive will set you back.
Verdict
For these reasons and more, we would like to be able to recommend WD's new-design My Passport Essential, but we can't. It's not a bad drive, and while the software-on-virtual-CD system will annoy geeks, it's a good idea for the less technical user. The software itself isn't too shabby either.
But we come back to that micro USB port. With a desktop drive and computer, neither of which are likely to be moved, it would be acceptable, but not in a portable drive which, like as not, will be hooked up to a laptop. Nudge computer, cable or drive and you risk data loss. ®
More External HDD Reviews...

LaCie
Starck

LG
XD2

Samsung
Story
Station

Western Digital My Passport Essential portable HDD
A poor choice of connector spoils an otherwise decent drive.
Price:
£68 (320GB) £90 (500GB) RRP