Rigid sky-train to fly through magnetic rings on sticks
Plus: Plan for 500mph Vegas-LA hovercraft link
---
Updated Promoters in Las Vegas this week vied to offer the wildest ideas for a new super-fast mass transit link between the desert gambling mecca and Los Angeles. Plans were presented for a "railless" train which would fly through magnetic rings mounted atop pillars and a "sunlight bullet expressway" employing "large air-cushioned hovercraft".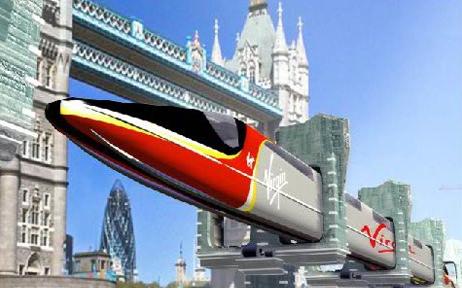 What, no more movie clips of trains going into tunnels?
The Las Vegas Sun reports on a forum held this week at the University of Nevada, at which various upstart startups presented radical alternative notions to the idea of a boring old railway between Vegas and the Coast.
First up, according to the Sun, was Robert Pulliam of Houston firm Tubular Rail. Tubular Rail's proposal is to build a series of magnetic hoops mounted on tall support pillars. A rigid mag-lev train would fly along the line spearing through the hoops. It would be supported by at least three rings at any given time, with the "rails" (actually part of the train) propelled along at 150mph by magnetic motors in each ring tower.
The Sun quotes Pulliam as stating that the Tubular Rail system is best for "long, straight routes across the desert," but as the company pic above illustrates, it has also been pitched for more congested environments.
Apart from Tubular Rail, other bidders for the Vegas-LA link included America's Sunlight Bullet Expressway. This concept would apparently include solar panels mounted on a roof-like structure all along the route, with an unspecified transport system running underneath. There would also be power transmission lines to carry the solar power and feed the transporter tech.
According to the Sun, Lou Baker of ASBE described the moving-people part of the concept as "a broad-based air-cushioned vehicle similar to a large hovercraft" capable of moving at 500mph with 1400 people aboard.
There was also representation from AVT SolaTrek, a relatively humdrum scheme which would see Americans driving their cars aboard individual "automated shuttles" which would accelerate on spur lines to join a stream of similar podules racing east or west on elevated solar-powered maglev tracks. Each one-car shuttlepod would be "private", featuring "air conditioning, vending machines, restrooms and entertainment centers" for a comfortable journey and no need to mix with the travelling public.
At the other end, one would simply drive one's car off the shuttlepod and on one's way, never even needing to step out of air conditioning.
According to the Sun, AVT SolaTrek and Tubular Rail are the most advanced of the projects: but even so they seem likely to be seen off by an ordinary boring maglev train - or even a prehistoric "steel-wheels-on-rails" job. ®
Update
Mr Pulliam has been in touch to say that in fact the hoops up the poles would not contain magnetic motors but electric motors turning rollers to propel the train's side rails along. In no way does his plan involve magnetism (except that, of course, magnetism is what electric motors run on). See his comment under "TR" in the comments section for details.
Bootnote
Fans of the great Robert Heinlein will recognise some of these ideas. The late sci-fi master wrote long ago of America-spanning "road cities" powered by rooftop solar panels, and also of zooming airborne trains which would soar between tunnels bored through hills (beginning of Starman Jones).
Similar topics
Narrower topics