Updated Vegetarians and health freaks look away now, because Burger King has launched a stomach-churning Windows 7-themed Whopper.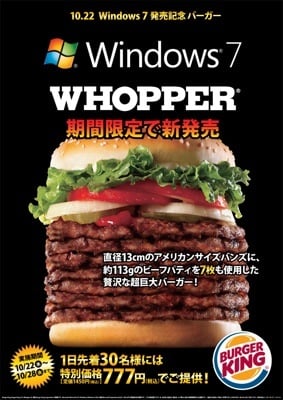 Burger King's Windows 7 Whopper is on sale in Japan
The software-sponsored sandwich is filled with not one, not two, but an unbelievable seven meat patties. The burger went on sale in Burger King outlets in Japan today to mark the major OS upgrade.
Our Japanese isn't great, but the poster – which comes direct from BK's Japanese website – appears to suggest that the Windows 7 Whopper will be on sale in the country until 28 October.
Should Burger King bring the monster meal to Microsoft fans in the rest of the world? Or would you rather wait for your Mac OS X 10.7 tofu treat?
Update
Japanese-proficient Reg reader Alun has since told us that the monster burger has a 13cm diameter and that each of the seven beef patties weighs 113g. Apparently BK will sell the first 30 Windows 7 burgers for ¥777 (£5.15/$8.50/€5.60), after which the meat treat's price will rise to ¥1450 (£9/$15/€10). ®