Do you own a Belkin TuneBase in-car iPod dock? Did you buy it after 1 April this year? If so, Belkin would very much like to have it back.
It's worried that the thing could catch fire. A washer within the cigarette lighter power adaptor could short out, it said today, causing smoke and, possibly, flames too.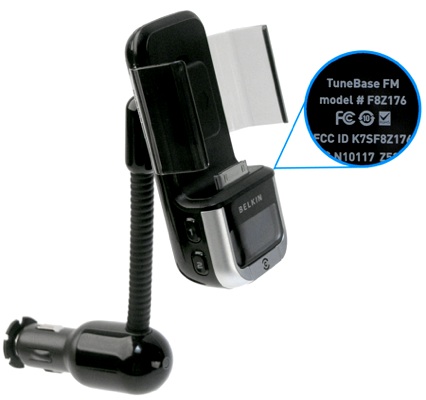 Belkin's TuneBase FM with ClearScan: got one? Check its model number now
Belkin said the risk was limited, that no one was so far been injured by these things, and that the problem was most likely to be experienced if the TuneBase's adaptor was left plugged in for "prolonged periods", for example "when the TuneBase is left plugged in overnight".
Devices purchased before 1 April 2009 are safe, Belkin said. Affected model numbers are F8Z441, F8Z442, F8Z176, F8Z441ea, F8Z442ea and F8Z176eaBLK. Look on the device, not its packaging, the company said. These numbers apply to the TuneBase FM with Hands-Free, TuneBase Direct with Hands-Free and TuneBase FM with ClearScan products.
Details of how to obtain a free replacement can be found on Belkin's website, here. ®