An online poll enquiring as to the possible existence of God has somewhat backfired on Christian outfit The Alpha Course, with 98 per cent of the popular vote currently saying he doesn't: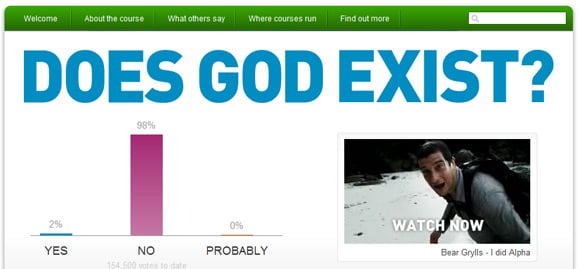 According to the Sun, The Alpha Course kicked off a multi-million pound advertising campaign back in September to promote its particular road to enlightenment, described as "an opportunity for anyone to explore the Christian faith in a relaxed setting".
The poster and ad drive was a response to a Humanist Society campaign last year suggesting there was "probably no God" - a view shared by the vast majority of the 154,500 online votes at time of publication.
The Humanist Society insists the poll has "backfired", while The Alpha Course reckons it's the victim of an online sting. Spokesman Mark Elsdon-Dew added: "I don't think this is indicative of people's faith in this country."
The Alpha Course is endorsed by daredevil TV bloke Bear Grylls (seen in the screen grab). Grylls is no stranger to exploring in a relaxed setting, having been rumbled for bunking down in hotels during the filming for his Channel 4 show when he was supposed to be kipping in the gutted carcass of a polar bear he'd killed with his bare teeth. ®