Hitachi GST clears out Simple clutter
New drives and new branding
---
Hitachi GST has updated its Simple line of external drives for EMEA, and given the G-Technology line an internal transplant with Hitachi GST drives being used in all its products.
Hitachi GST has three external storage brands: Easy, Simple, and a line of Mac disk drive products in the form of G-Technology.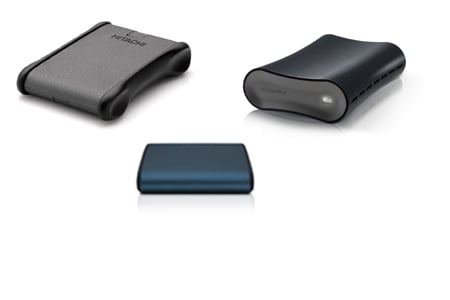 From left to right there are the Portable Rugged drive, the Simple and Stylish Portable drive, and the SimpleDrive.
The G-Technology and SimpleTech bands were acquired by Hitachi GST with its Fabrik Inc purchase in April this year.
G-Technology is positioned as a provider of storage products for the Mac, creative professional and high-end audio/video (AV) markets. It has a line of single-drive and low-cost RAID systems. SimpleTech was a straightforward consumer brand for portable and external drives.
The intention was that Fabrik's business would form the core of a new Hitachi GST's Branded Business division. SimpleTech CEO Mike Cordano became Hitachi GST's exec VP for sales and marketing and the president of the company's Branded Business unit.
In July Hitachi GST launched two Simple-branded drives: the SimpleTOUGH which was water-and shock-resistant, and the SimpleDRIVE which was a mini-portable. At the time Mike Williams, the general manager of the Branded Business unit, said "Re-branding SimpleTech to the Hitachi brand" was an important step.
It has now launched three new drives, two with a Simple tag and one without.
The new SimpleDrive comes as a vertical-mount 500G, 1TB or 2TB 3.5-inch drive in what HGST describes as an attractive anodised aluminium case, and is intended for home and small office users. The company says, shooting for a cool image, that it can be used to store "your pics, flix, tunes and docs."
A Simple and Stylish Portable Drive is described as being available in "multiple colours" but comes in just two; a blue-coloured box if it has a 320GB 2.5-inch drive inside it and a carbon fibre black textured case if it encloses a 500GB one.
The third new drive is the Portable Rugged Drive, the follow-on from the SimpleTOUGH it would seem, as it withstands small drops and liquid spills. It uses Hitachi's 2.5-inch Travelstar drive in 320 and 500GB capacities and has a fold-away USB cable. A Hitachi spokesperson said it is a Hitachi-branded drive with no Simple or Easy branding. However, Simple seems to be surviving as a sub-brand for now.
The branding is going to be simplified from three to just two brands. Steve Pereira, Hitachi GST's EMEA VP, said: "Our long term strategy is to focus on building the Hitachi brand portfolio of portable storage solutions into new markets. Moving forward, we will have two highly segmented brands: 'Hitachi' for mainstream PC users, delivering simple and easy storage, backup and content management solutions, and 'G-Technology' for delivering premium, high-performance storage solutions for the Mac, creative pro, photography and AV markets."
THe G-Technology brand will now use HGST's 2TB, 7,200rpm, 32MB cache hard drives across its entire 3.5-inch product line, with maximum capacities ranging from 2TB to 32TB.
The 2TB drive products are available now from G-Technology's channel.
Hitachi has also introduced internal hard drive kits. They feature 5,400 or 7,200rpm Hitachi GST drives, SATA cable, mounting screws and instructions.
The Hitachi SimpleDrive and two new portable external drives ship with Hitachi Local Backup software, which has wizards to guide users in setting up automatic backups on specific days or dates with automatic file selection. All Hitachi external storage products are Mac and PC-compatible, and feature a three-year warranty. ®