If you've ever been enjoying yourself at the pub only to be seized by an uncontrollable urge to know the position of the International Space Station - right. this. minute. — sweet mobile relief has arrived courtesy the good ol' US of A space agency.
NASA on Friday released an iPhone/iPod Touch application that delivers up-to-the-minute Agency news, videos, and other scienc-tastic content from the convenience of your Apple device. And hey, you're already used to paying space agency-level hardware costs with an iPhone, why not dive further into the spirit of things?
The app currently hosts details and updates (in the form of Twitter feeds) on NASA missions such as LCROSS/LRO, Mars Exploration Rovers, the International Space Station, the Constellation program, Mars Odyssey, and the Space Shuttle.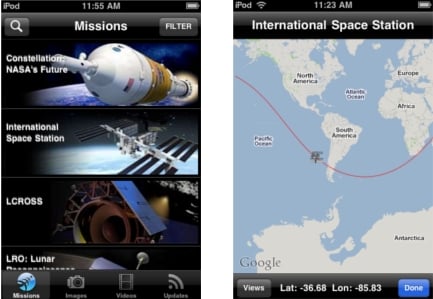 Each category also contains pictures and YouTube videos available of the mission — plus live tracking of the ISS using Google Maps.
The NASA iPhone app was created by the New Media Team at NASA's Ames Research Center in Googleville Mountain View, California. The app is available free on Apple's App Store — and can be downloaded here (via direct link through iTunes.) ®