This article is more than 1 year old
Apple Magic Mouse
Ergonomics, we've heard of it
No one, though, will find the side edges of the Magic entirely comfortable. The upper surface meets the edge at a sharp right angle that descends for three or four millimetres or so before reaching a small gap and then the graceful downward curve of the mouse's lower half. This flat side falls exactly where we place our thumb and doesn't feel right at all.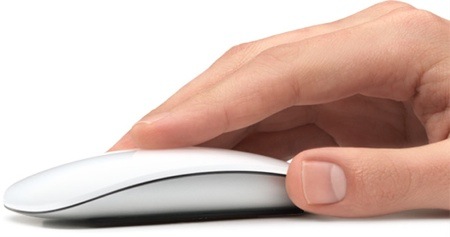 Designed to be fingered not palmed
The base of the mouse is nice and smooth though, and ran well on the wooden surface we tried the Magic on - and on flesh and a leather jacket, too. Apple has thoughtfully included a power switch to preserve battery life - more on this later - when the mouse is stowed. A latch at the base of the mouse flips up the base to allow you to access the battery bay. The Magic is powered by a pair of AAs, and while the ones Apple supplies are nothing special, you can slot in your own rechargeable pair in due course.
The batteries and the aluminium base lend the Magic mass, and the device is nicely weighted, with the right balance between inertia and smooth movement.
The multi-touch surface works well too, with almost every part of the upper face of the mouse sensitive to touches. Finger-swipe scrolling, horizontally as well as vertically, may feel odd when you're not used to it. Still, we think it's a better, more accurate way of controlling scrolling windows than a scrollwheel - ratcheted or free-running - and certainly more so than side-tilting scroll wheels.
Apple touts a zoom feature - scroll while holding down a modifier key - but it simply zooms the entire screen, not the contents of the foremost window. There's no twist-to-rotate gesture either.
Swiping two fingers sideways flips back and forth between, say, browser pages. It sounds a good idea, but we found it a tricky manœuvre to perform. Grip the mouse and it's hard to move index and middle fingers together very far. Let go of the mouse, though, and it's too easy to simply push it sideways rather than swipe across it. We suspect this is a feature, like the Mighty Mouse's side-buttons, that folk will not use.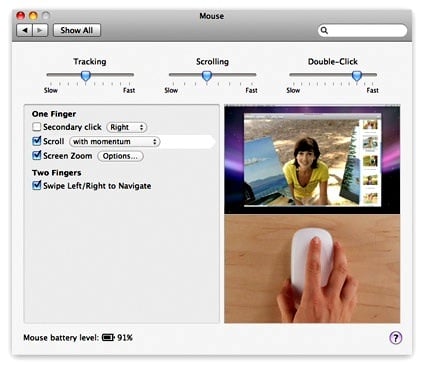 Apply your settings
The narrowness of the Magic means that three- and certainly four-finger swipes are out of the question, even though these are both useful additions to Apple's latest laptop trackpads.