Review Like a faded 1970's rock group, Sharp's web site proudly proclaims that the company is 'Big In Japan'. There's more than a hint of irony in that claim, though, as Sharp is no doubt aware that it's a relatively low-profile player here in Europe when compared with the likes of Sony, Samsung and Toshiba. However, it's clearly hoping that the latest additions to its Aquos range of HD TVs will put it back on the map again.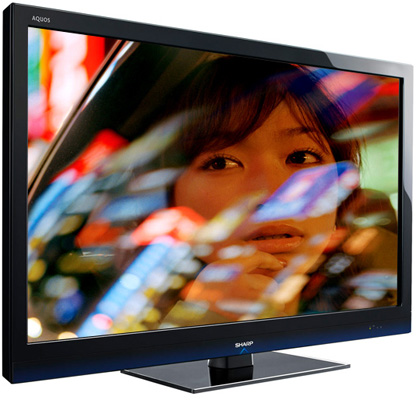 Contrasting view: Sharp's LC40LE700E Aquos
The LC40LE700E reviewed here is part of Sharp's new LE700 range, all of which are distinguished by their use of full-screen LED backlighting. This particular model has a 40in screen with 1080p resolution and 100Hz refresh, and costs £1299 if bought directly from Sharp's online store. There are also 32in, 46in and 52in versions available, priced at £949, £1599, and £1899 respectively. As always, it's worth shopping around, as there are some bargains deals out there.
Our first impressions of the LC40LE700E were a little underwhelming. The unit's design is pretty nondescript, with a simple black plastic bevel around the edges of the screen, adorned only by a glowing blue logo on the bottom edge of the screen – this can be turned off it you find it distracting. The manual was rather unhelpful and we experienced a worrying Ikea moment, with the screen turned upside down while we attempted to screw the stand into place without being entirely sure if the stand was on backwards or not.
Fortunately, the TV didn't fall over when we turned it the right way up again and things quickly started to pick up from that point. The automatic installation option asks you what country you're in and then quickly scans for available channels using its built-in Freeview tuner.
A glance around the back of the unit reveals a good selection of additional connectors, including three HDMI ports, one of which has an associated audio port so that you can connect a PC or Mac that has a DVI interface. Other connectors on the back include component video input, two SCART connectors and both digital and analogue audio output.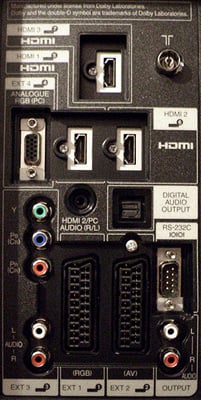 No Ethernet, but not exactly an issue at present
There's also a secondary panel on the right-hand edge of the screen that is equipped with a fourth HDMI interface, CI slot for pay-TV channels, composite video input, headphone socket and USB port for playing media files off a memory stick or other device.