This article is more than 1 year old
Sonic 'hyperlens' offers hi-res ultrasound scans, naval sonar
No it's not a submarine, it's a whale - do not torpedo
Boffins in California say they have developed a cunning "acoustic hyperlens" which will allow naval sonars and medical ultrasound scanners to increase the resolution of their images eightfold - accurately picturing details much smaller than the wavelength of the sound used to scan them.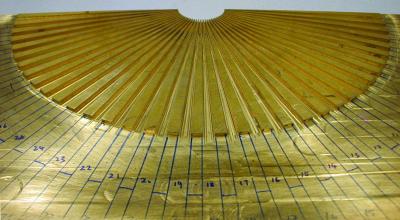 Absolutely no chance they're wrong about the sex of your baby anymore.
This might seem to be impossible, but according to Xiang Zhang of the Lawrence Berkeley National Laboratory it's reality. The key, apparently, is the use of "evanescent" sound waves - undetectable to normal sonic equipment, which instead relies on propagating waves.
"We have successfully carried out an experimental demonstration of an acoustic hyperlens that magnifies sub-wavelength objects by gradually converting evanescent waves into propagating waves," says Zhang. "Our acoustic hyperlens relies on straightforward cutoff-free propagation and achieves deep subwavelength resolution with low loss over a broad frequency bandwidth."
The lens, made of brass, works by funnelling the normally undetectable evanescent sound waves into a small area and so concentrating them into propagating waves. According to the Berkeley lab, it has already produced two-dimensional sonic images of objects 6.7 times smaller than the wavelength of the sound used. Zhang and his crew are now working on a model which can work with the pulse-echo imaging used in both naval sonars and medical ultrasound scanners, and on upgrading to 3-D imaging.
"Directly applied to current ultrasound pulse-echo technology, the hyperlens would allow the use of lower input frequency, which in turn would increase the penetration depth and allow physicians to see, for example, smaller tumors or finer features of larger objects that could help them identify other abnormalities," Zhang says.
In undersea warfare, sonars don't normally need to detect very small objects - one is normally seeking to spot a submarine or at worst a large mine. But hyperlens sonars would seem able to maintain the same resolution at much lower frequency, which would mean being able to detect any given target from further away. It's certainly no surprise to note that the Office of Naval Research contributed funds to the hyperlens project.
Zhang and Co's letter in Nature Materials, Experimental Demonstration of an Acoustic Magnifying Hyperlens, can be read here by subscribers. ®