This article is more than 1 year old
Dell unveils exclusive Microsoft-branded Ubuntu OS
Mix up a penguin
Dell is currently flogging a cheap-as-chips netbook that apparently comes loaded with that well-known Microsoft operating system, Ubuntu 8.04.
Anyone dropping in on the computer maker's UK product website will be able to buy an Intel-based Inspiron Mini 10 laptop for £199 a pop.
And, according to the blurb on the site, one ickle mobile computer in its current range is being shipped with Microsoft's, er, Linux-flavoured OS.
Shurely shome mishtake, we think.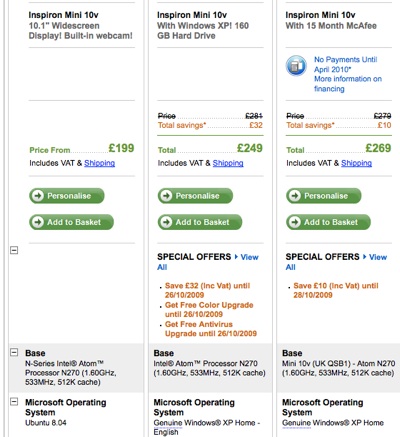 Dell gets knickers in twist with that penguin-waddling Microsoft OS, Ubuntu
These days Dell, like many other big name computer vendors, has started to embrace the cuddly penguin by offering non-Windows laptops and PCs to its customers.
Indeed, the company even gives its punters the chance to distinguish between Linux and Windows on this helpful web page before a purchase is made, where it clearly states: "UBUNTU is not a Microsoft Windows operating system."
On this occasion though, we think Dell forgot to take its own advice. Whoops. ®
Bootnote
Tip of the hat to reader Alan for alerting us to this penguin re-mix.