This article is more than 1 year old
LG New Chocolate BL40 movie phone
Widescreen wunderbar?
Review LG's first Chocolate was promoted as a style phone but now, several incarnations in, its become more than just a sweet talker. The LG New Chocolate BL40 looks like nothing else (except perhaps a bar of Cadbury's Bourneville), with its 21:9 cinematic widescreen and elongated proportions. Yet, besides its unusual look, it also has a 5Mp camera, Wi-Fi, HSDPA 3G, A-GPS, an upgraded S-Class UI with widgets and an FM radio, plus a host of other features.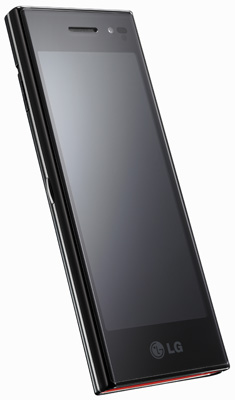 Dandy candy: LG's New Chocolate BL40
To our eyes, the BL40 looks lovely, with its glass front, glossy black plastic back, tasteful metal strip around the sides with some snazzy red trim on top and bottom. This distinctive look won't appeal to everyone but get better acquainted with it, and there's a lot to like. Initially, the dimensions of 128 x 51 x 11mm seem bizarre but we soon got used to its stretch limo aesthetics. At 129g it's no lightweight, but at least feels sturdy and well made in the hand.
Around the sides the controls are rather stylishly built into that metallic strip and include a volume rocker, camera shutter, music key, a micro USB socket covered by a plastic grommet and there's a 3.5mm jack plug on top next to the power key. The back is plain except for the Schneider Kreuznach camera lens and LED flash.
LG's S-Class interface has had a bit of an update to make it a little easier to use. The spinning cube is now a rectangular cuboid to fit in with the wide display and you can add various widgets to four separate home screens that you access by brushing across the touchscreen. And unlike past LGs, the cube displays the screens with all the latest widgets you've used to customise them.
The interface now includes gesture controls which allow you to access functions by drawing symbols on the home screen, such as 'C' for contacts, 'M' for messaging, though there aren't options to use this for all the apps, which is a shame. The 4in (88 x 40mm) capacitive touch screen looks gorgeous, featuring an 800 x 345 pixel resolution. For clarity and sharpness, it ranks along with those flashy new OLED screens we've been treated to recently.

Slim, but its length isn't too pocket-friendly
Whether it's because it's capacitive rather than resistive, or perhaps because LG has been very careful about setting the sensitivity, the screen is exceptionally easy to use and finally makes the most of the S-Class's good-looking but busy icon menu, which recent LGs – like the Arena and Crystal – tended to struggle with. Call quality was clear and sounded decent enough through the BL40's large speaker and we never had any problems accessing a network signal from our north London bolthole.