This article is more than 1 year old
LG New Chocolate BL40 movie phone
Widescreen wunderbar?
Contacts get their own dedicated homescreen offering picture views of your friends and options to call, video call – as there's a VGA camera on the front – or message them. Messaging is easy to set up, with most accounts requiring just email address and password, and while we tended to use the Qwerty keyboard – which isn't available for all apps, incidentally – the numeric keypad with T9 predictive text and suggested words wasn't bad at all.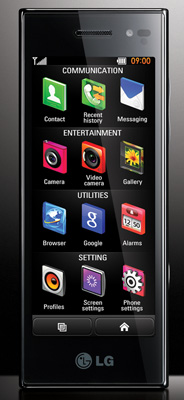 S-class interface icons have been modified to suit the screen
However, in both cases, the screen doesn't allow you to see a great deal of text at any one time. Usefully, you can cut and paste from other messages or the net easily and set up push email from several email clients, including Hotmail, Google and Yahoo.
The browser is fun to use and includes RSS feeds and the ability to save pages for viewing later when you're offline. Quick access is enabled with HSDPA 3G (up to 3.6Mbps download) or Wi-Fi. The multi-touch screen allows you to pinch and zoom, iPhone-style or you can simply tap the screen, and it makes a decent effort to adapt most pages to the screen's unusual dimensions, though some certainly work better than others.
The onboard accelerometer snaps over to landscape resolution when you turn it on its side and the onscreen Qwerty keyboard is well spaced and easy to use. Our only real gripe was that did lock up on us on occasion, and there were too many occasions when the navigation menus were very slow to appear.
The 5Mp camera won't win any awards, but it works fairly well within its limits. It takes around five seconds to load up after pressing the shutter button and another three to take a snap, so it's not the fastest out there. The camera features loads of options, including colour effects, timer, continuous shot, face tracking, smile detection, beauty shot (vignette), art shot (textures), frames, plus panorama with automatic alignment.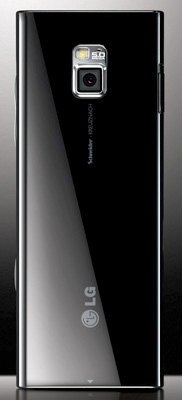 Just a 5Mp camera, but blessed with a Schneider Kreuznach lens
You can view your pics in a grid or by brushing through them cover flow-style and there are post-pic editing options which allow you to add text or icons, crop or draw on your pics as well as adjust brightness, colour and contrast.