This article is more than 1 year old
LG New Chocolate BL40 movie phone
Widescreen wunderbar?
Overall pic quality is pretty good, though it seemed to struggle a bit with direct sunlight and high contrast images. Purple fringing was a bit more common than we'd like and while colour balance wasn't strictly accurate, it tended to err towards the vibrant rather than the washed-out. Video quality drops a notch or two but it's not bad all, recording at 30fps in MP4 format.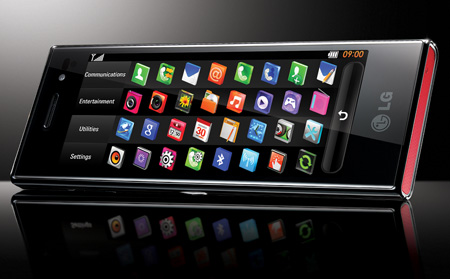 The 21:9 aspect display will appeal to film buffs
Viewing videos on the BL40 is an experience, with that wide, sharp screen showing off our test movie trailers to very good effect, sometimes without those intrusive black bars top and bottom. For more standard 16:9 resolution you can choose to stretch it to full screen, which is done fairly subtly. Dark scenes occasionally suffer from an overly aggressive contrast ratio, but mostly it's sharp, quick and clear. It plays MP4, WMV and AVI files and is compatible with DivX and Xvid too.
There's a reasonable 1.1GB of memory on board and can it handle micro SD cards up to 32GB – not supplied, and you'll need to remove the back cover to instal a card. The dedicated music button on the side takes you straight to the track menu. The player includes some fun disc-spinning icons on the interface, as well as all the usual controls.
It will play MP3, WMA and AAC files and offers audio optimisation tricks like Dolby Mobile (though we found this tended to make our tracks sound a little muddy) and a graphic equaliser with 20 presets.
While the supplied headphones are surprisingly good, with a fairly full bass and a good delivery of midrange detail, you can also upgrade them using the 3.5mm jack plug or go for the wireless option using Bluetooth. The FM radio features RDS station info, 48 channel presets and automatic scanning.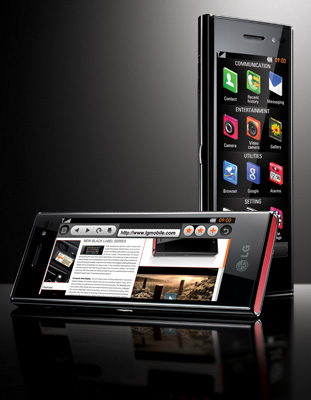 Web browsing letterbox-style takes a bit of getting used to
A-GPS is on board, backed by Google Maps and the rather basic WisePilot for LG satnav option. We wouldn't recommend it for driving, as we found it unnecessarily fiddly to use and the screen's dimensions mean it struggles to display maps and text as clearly as you'd need when you're on the road.